You don't want to wait too long to start considering the top solar stocks to buy.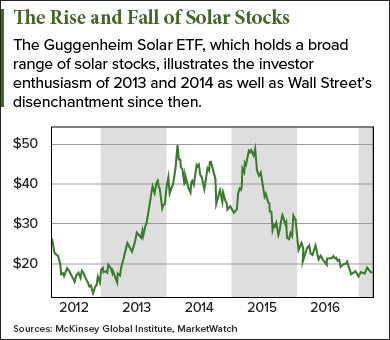 Granted, that may seem odd considering solar stocks as a group have tumbled for nearly two years now as the rest of the market has soared to all-time highs.
The Guggenheim Solar ETF (NYSE Arca: TAN), which holds most of the top solar stocks, has plunged 65% since peaking in April 2015.
Many individual solar stocks have fared even worse. Canadian Solar Inc. (Nasdaq: CSIQ) dropped 70% over that time span. SunPower Corp. (Nasdaq: SPWR) is down 82%. Vivent Solar Inc. (NYSE: VSLR) has fallen 83%.
But that's history. This year the tide will begin to turn for solar stocks as they prepare to meet demand that will more than double installed capacity from 300 gigawatts at the end of 2016 to 700 gigawatts by 2020…
Why Solar Stocks Will Begin a Long March Higher in 2017
Despite the steep price drop in solar stocks over the past two years, the number of solar power installations has continued to grow. According to SolarPower Europe, solar capacity worldwide grew 49% in 2016.
Solar stocks have gone in the opposite direction because of an unfortunate combination of short-term issues. The drop in fossil fuel gas prices made solar power less competitive. Concerns about the phasing out of government subsidies (exacerbated by the election of Donald Trump) have also weighed on the prices of solar stocks.
Making matters worse were the efforts of some companies, like SunEdison, to take on too much debt in an effort to grow ahead of the market.
But those were growing pains. The truth is, solar stocks got ahead of themselves, as technology stocks often do (see: 3D printing).
In the long run, solar power will prosper and reward investors (especially those who buy at the bottom).
Think about it. Solar is a free and abundant energy source. Past stumbles aside, it's an energy source begging to be exploited for profit.
We're seeing the seeds of that future profitability now, both in strong demand and maturing technology.
A report released last month by the McKinsey Global Institute forecast that the proportion of solar and wind energy in the global energy mix will grow 800% from 4% today to 36% by 2035.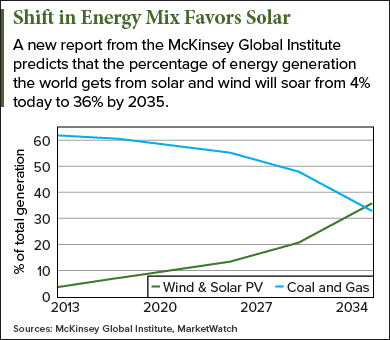 And improvements in solar technology will continue to make it cheaper and more efficient – and eventually cheaper to use than fossil fuels.
According to the McKinsey report, the cost of building a solar power plant has declined 90% over the past six years. While many variables are involved, solar already is a competitive choice in many regions. That has eliminated the need for costly government subsidies in many countries.
The last major technological hurdle holding solar back is the need to store energy when the sun is shining for use when the sun isn't shining. And the good news for solar stocks is that even this problem is close to being solved.
Utilities in several states have already begun to test virtual power plants. These facilities use high-tech batteries and computer software to store energy from the daytime for redistribution to the grid at night.
New Report: Start Collecting a "Second Salary" with These Powerful Income Generators
Just last month AES Corp. (NYSE: AES) activated a 30-megawatt virtual power plant in Escondido, Calif., in a partnership with San Diego Gas & Electric (a unit of Sempra Energy [NYSE: SRE]).
Like other solar technology, the cost of the batteries continues to fall while capabilities rise.
Meanwhile, concerns over global warming add a political incentive to the economic incentive to transition to solar power.
The world's growing appetite for solar power will revive this sector and send the top solar stocks to buy on a years-long bull run.
These solar stocks should be at the top of your shopping list…
The 3 Top Solar Stocks to Buy Now