As a courtesy to Money Morning readers, we've rounded up the 10 top penny stocks to watch in April, which includes the biggest March gainers so far...
| | | |
| --- | --- | --- |
| Penny Stock | Current Share Price | March 2017 Return |
| Cancer Genetics Inc. (Nasdaq: CGIX) | $4.43 | +96.9% |
| Rocket Fuel Inc. (Nasdaq: FUEL) | $5.14 | +81.9% |
| Ocera Therapeutics Inc. (Nasdaq: OCRX) | $1.20 | +81.8% |
| Catalyst Pharmaceuticals Inc. (Nasdaq: CPRX) | $2.02 | +78.8% |
| Internap Corp. (Nasdaq: INAP) | $3.79 | +68% |
| Microvision Inc. (Nasdaq: MVIS) | $2.55 | +59.4% |
| Lincoln Educational Services Corp. (Nasdaq: LINC) | $2.90 | +55.1% |
| Pain Therapeutics Inc. (Nasdaq: PTIE) | $0.85 | +49.1% |
| Highpower International Inc. (Nasdaq: HPJ) | $3.60 | +46.9% |
| Idera Pharmaceuticals Inc. (Nasdaq: IDRA) | $2.54 | +35.8% |
While there are no triple-digit gainers this month, the best penny stock of March 2017 - Cancer Genetics Inc. - got the closest with a 96.9% return so far.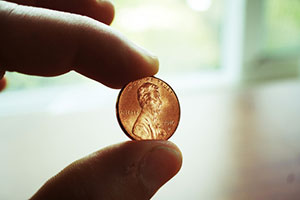 Remember, this list only serves as a tracking metric for stocks trading under $5 on the Nasdaq exchange. We've only included Nasdaq-listed penny stocks because they're regulated by the U.S. Securities and Exchange Commission (SEC).
Get In Now Before This Stock Takes Off... The world's biggest chip maker recently invested $25 million in this tiny tech firm. Find out how to make this $5 stock a part of your portfolio today. Read more...
And although this means these 10 penny stock winners are much safer investments than those trading on the pink sheets, we don't recommend buying them without the proper amount of research. That includes studying the company's 10-K filing and looking for suspicious CEO compensation info.
However, Money Morning Small-Cap Specialist Sid Riggs is here to do the research for you, and he just found one of the best small-cap stocks to buy right now.
Riggs - a small-cap expert whose last stock pick has handed Money Morning Members a 28.5% return since February - likes this firm because it's a dominant leader in the data security sector. It has more than 10,000 U.S. customers across many booming industries like banking and healthcare.
Best of all, analysts see it surging as much as 52.7% within the next 12 months.
Here's one of the best stocks to buy right now...
Buy This Small-Cap Stock for a 52.7% Return by March 2018
[mmpazkzone name="in-story" network="9794" site="307044" id="137008" type="4"]
Riggs' favorite small-cap stock right now is VASCO Data Security International Inc. (Nasdaq: VDSI).
The VDSI stock price hovers at $13.10. Although that's almost triple the $5 maximum penny stock price, Riggs thinks VDSI is more than worth the extra $8.10. That's because it's one of the largest and fastest-growing companies in the financial cybersecurity market.
You see, VASCO makes technology that protects and encrypts digital banking transactions. It offers mobile application security, electronic signature capabilities, and many other services that make your transactions safe. Of the company's over 10,000 customers, half include the world's 100 largest banks, as well as some of the biggest government agencies and healthcare companies.
What many investors don't realize is how much growth potential VASCO's niche industry has...
According to Riggs, about 2 billion people worldwide are projected to use mobile devices for banking transactions by 2019. That means there could be as many as 285.7 million mobile transactions every day by then if each person performs at least one transaction per week.
"That comes out to 11.9 million transactions an hour," Riggs said. "That's a whole lot of opportunities for hackers to intercept your banking information as it travels through 'secure' networks."
The explosive growth of mobile banking will give VASCO a massive opportunity to get more customers and grow its profits. Analysts surveyed by Yahoo Finance expect VASCO's annual revenue to increase 6.4% from a projected $185.9 million this year to $197.8 million in 2018.
Those same analysts give VASCO stock a high one-year target of $20 per share. That's a strong 52.7% gain from today's price of $13.10.
The Bottom Line: While shares of VDSI are down 4% this year, the company has incredible long-term growth potential. Its surging revenue projections and dominance in the financial cybersecurity market make VDSI one of the best small-cap investments of 2017.
Unusual Theory Made an Ordinary Investor into the World's Greatest Stock Picker: A little-known business analyst from Pittsburgh has recorded 217 double- and triple-peak-gain winners since 2011. A record that's 100% genuine and documented... and flat out the best stock record we've ever seen.  What's even more amazing is how he does it. Today, he reveals his secret. Learn more.