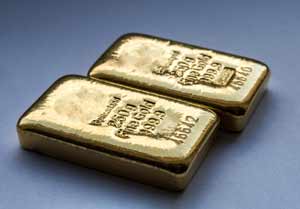 With gold now up 9% to $1,261 this year, it's time to consider our two picks for the top gold stocks to buy in 2017.
The price of gold is staging a massive rebound right now, and we're confident it will continue in 2017. Since bottoming at $1,204 after the Fed rate hike on March 15, gold prices have climbed 4.7%. Money Morning Resource Specialist Peter Krauth expects them to rally 11% from their current price to $1,400 by the end of the year.
And he has two reasons why gold prices and gold stocks will post big returns this year…
Why the Price of Gold in 2017 Will Rise 11%
The first reason gold will rally this year is the metal's role as a safe-haven investment.
A safe-haven investment is one that typically increases or maintains its value during market volatility. If the Dow Jones Industrial Average takes a plunge, investors who own safe havens can insulate themselves from big losses.
And gold is looking more and more attractive as the market keeps pulling back from its record highs. The Dow Jones fell for the eighth straight session yesterday (Monday, March 27). That's the longest losing streak since 2011. All of this comes on the heels of the GOP healthcare failure last week and market participants losing faith in Trump's promised corporate tax cuts.
Must See: A completely unique gold play is forming in the markets. And it's so rare that it's only the third time in 20 years that it's happened. If you get in now, you could see a share of upwards of $13 billion in cash windfalls. Read more.
In other words, investors have started to worry that the post-election rally has been artificial. If the stock market continues to slide, more investors will pile into gold and gold stocks. That will send all types of gold investments – including our two best gold stock recommendations – much higher this year.
The second reason behind our bullish gold price prediction is rising inflation, which sits at a five-year high of 2.7%.
One of the reasons the Fed has started to raise interest rates is to keep inflation in check. There have been two rate hikes since December 2016, and the Fed says two more are on the way in 2017.
Inflation hurts the economy because it hurts the dollar's purchasing power and raises consumer prices. At a 2.7% annual inflation rate, something that costs $10 now will theoretically cost $10.27 one year from now. This incentivizes people to buy fewer goods and services, which fundamentally damages the economy.
Investing in gold is a healthy strategy during periods of high inflation. Since inflation hurts the economy, it can scare investors into selling their stocks. That mass sell-off boosts the value of safe havens like gold.
While physical gold can be a great investment, it can be difficult to maintain. Storing and keeping it in good condition can be costly, especially over the long term.
That's why our two gold stock picks today are gold miners. These companies will profit the most from rising gold prices because they will make a bigger profit on each ounce of gold sold.
We believe companies engaged in gold mining will reward investors robustly over the next year.
Here are the two best gold stocks to buy in 2017…
2 Top Gold Stocks to Buy for 82.6% and 49.2% Returns by March 2018