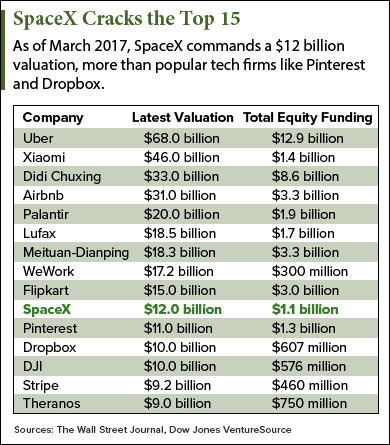 Although no IPO date has been announced, the SpaceX IPO valuation will likely be one of the biggest IPO valuations of the decade once the company hits the market.
Right now, SpaceX already boasts a private valuation of $12 billion. That's more than double the $5.5 billion valuation of ride-sharing company Lyft.
You see, a company's pre-IPO valuation is a big indicator of its valuation after going public. A company's private valuation ultimately dictates how much demand there is for shares once the company prices its IPO. The share price – combined with the number of shares – determines the market capitalization, which is the total value of a public company.
But that's just a fundamental factor. We've identified two bigger factors that will influence the SpaceX IPO valuation when the company hits the market down the road.
Here are those two factors…
SpaceX IPO Valuation Factor No. 1: Current and Projected Revenue
One of the biggest factors that will go into the SpaceX valuation is the company's revenue.
SpaceX's primary source of revenue is contracts with agencies that need its technology. The most notable customer is NASA, which paid SpaceX $2.6 billion in 2014 to send payloads to the International Space Station (ISS) orbiting the Earth. These payloads – or supply shipments – are launched by Falcon 9 rockets and often carry scientific tools like satellites and probing devices used by astronauts on the ISS.
Special Report: Cannabis Is the Gold Rush of the 21st Century – 30 Stocks to Invest in Now
The company currently has 70 supply launches on its backlog of orders. To meet this demand, SpaceX President Gwynne Shotwell announced on Feb. 6 that the firm would start launching Falcon 9 rockets once every two or three weeks. That's the quickest rate of launches ever for the Falcon 9 model.
According to the SpaceX website, customers like NASA and the ISS pay $62 million for each Falcon 9 supply launch. That cost multiplied by the 70 orders on the backlog means the company could potentially make up to $4.3 billion in future revenue.
There's no doubt that SpaceX's insanely high revenue projections will have investors clamoring for shares once the company files for an IPO. This high demand ensures the company will have a massive public valuation.
But the second factor determining the SpaceX IPO valuation is even more important. It's an initiative that's deeply rooted in the company's long-term goal of colonizing Mars, which means it will make or break the company's profitability down the road.
Here's why this initiative will have a tremendous impact on SpaceX…