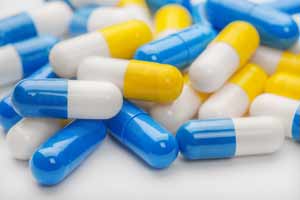 The top stocks to watch today (Wednesday) are pharmaceutical company Depomed Inc. (Nasdaq: DEPO), Vertex Pharmaceuticals Inc. (Nasdaq: VRTX), and circuit maker Exar Corp. (NYSE: EXAR).
Brexit has officially begun. The president of the European Council, Donald Tusk, has received the letter from Britain's Prime Minister Theresa May, formally starting negotiations for Britain to leave the European Union. The process is expected to take two years as the parties negotiate a settlement amount for leaving. A trade deal between the parties is also in the works.
The expected volatility from Brexit has not impacted trade negatively yet. Global trade of goods by volume has grown 2.4% in the three months ending in January, the fastest it has grown since August 2010.
Now that we know what's moving markets, here are the three top stocks to watch today…
Top Stocks to Watch Today: Depomed Inc. (Nasdaq: DEPO)
Depomed stock is down 5% in early morning trading as the company names a new CEO and directors.
The manufacturer of painkillers has been in a dispute with activist investor Starboard Value LP. Starboard announced in September that it wanted to replace Depomed's board. In October, a deal was made that Starboard would get three board seats.
The final result has led to CEO James Schoeneck being replaced by Arthur Higgins. Higgins has the backing of Starboard and was the former CEO of Bayer Healthcare.
Along with being named the new CEO, Higgins will also be on the board, along with Gavin Molinelli and William McKee.
DEOP stock is currently trading at $14.23 for a loss of 21% year to date.
Build Incredible Wealth: This investing strategy has uncovered more than 400 double- and triple-digit peak-gain winners. One pick alone could have turned $5,000 into $34,350. Read more…
Top Stocks to Watch Today: Vertex Pharmaceuticals Inc. (Nasdaq: VRTX)
Vertex stock is up 18.8% in early morning trading after announcing positive trial results.
The company's main focus is treatments for cystic fibrosis (CF). The drug in the current pair of late-stage clinical trials would be the third in six years approved for the treatment of CF for Vertex.
The new treatment was tried in conjunction with another drug already approved by the FDA, Kalydeco. The results showed significant improvement.
The company is expected to file for FDA approval of the combination therapy later this year.
VRTX stock is trading at $89.67 for a gain of 21.7% so far this year.
Top Stocks to Watch Today: Exar Corp. (NYSE: EXAR)
Exar stock is up 22% in early morning trading after a buyout announcement.
The semiconductor maker will be bought out by MaxLinear Inc. (NYSE: MXL) for $13 a share, making the deal worth roughly $472 million.
The deal still needs to obtain regulatory approval and will not be finalized until the second quarter.
This deal is part of a larger trend to consolidate in the industry in an effort to streamline production and increase profits.
EXAR stock is currently trading at $10.62 for a loss of 1.5% so far in 2017.
Secret Weapon Set to Foil China's Master Plan: The South China Sea is about to get violent, and the Chinese have an alarming new superweapon they think gives them the upper hand. Or at least that's what their war hawks think. But they couldn't be more wrong. Thanks to a small $6 U.S. defense contractor with a top-secret technology, the Pentagon has an ingenious new checkmate move designed to stop a Chinese sneak attack dead in its tracks. Click here to learn more…
Follow Money Morning on Facebook and Twitter.