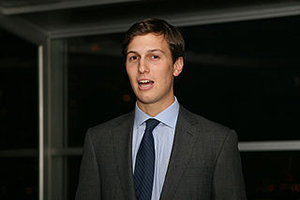 On Monday (March 27), the White House unveiled a new initiative to bring business ideas from the "real world" to overhaul federal bureaucracy in the form of a new agency.
It'll be called the White House Office of American Innovation (OAI), and it will be spearheaded by Trump's top advisor and son-in-law, real estate mogul Jared Kushner.
The innovation office will be "an offensive team" – an aggressive, business-focused ideas factory — according to Kushner, who spoke about the OAI with The Washington Post on March 26.
"We should have excellence in government," Kushner said. "The government should be run like a great American company. Our hope is that we can achieve successes and efficiencies for our customers, who are the citizens."
The media quickly praised the decision:
"Trump taps Kushner to lead a SWAT team to fix government with business ideas," wrote The Washington Post.
"Critics shouldn't look at the Kushner project as a reason to protest," said Brian Womack, an enterprise tech reporter for Bloomberg.
But while the media is putting a positive spin on the OAI's agenda, they seem to be ignoring a few key concerns…
The U.S. Is Not Russia
Money Morning Capital Wave Strategist Shah Gilani believes this new office is going to encounter the same problems that previous administrations have dealt with.
According to The Post, the OAI will hold extensive powers to potentially privatize certain government responsibilities by culling ideas from the business community.
However, this idea is not unique or revolutionary. Governments have been sending public services to the private sector – the exact agenda that the innovation office is pushing for – for decades. This trend stems from the common belief that private companies can help governments save or make money by doing jobs faster and cheaper.
"They've been trying to do this since the 80s," Gilani said yesterday (March 28). "The joke is that the government doesn't really help. They never have. They just continue to get in the way!"
You see, Gilani has been closely following the actions of this new administration in order to spot key trends that may disrupt the markets – and investors' money.
Build Incredible Wealth: This investing strategy has uncovered more than 400 double- and triple-digit peak-gain winners. One pick alone could have turned $5,000 into $34,350. Read more…
He's concerned about what privatization – the transfer of a business, industry, or service from public to private ownership and control – could do to the markets. That's because this same thing occurred in Russia almost 30 years ago…