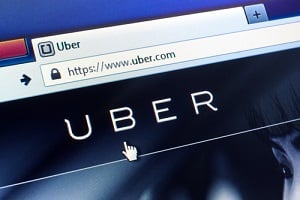 Retail investors have been anxiously awaiting their chance to own stock in the ride-hailing service Uber, which is valued at $70 billion in private markets, according to Reuters.
So will the Uber IPO date be set in 2017?
Right now, the answer is no. And there are three reasons why you shouldn't hold your breath for a public offering from Uber in 2017…
Why the Uber IPO Will Be Delayed
Uber CEO Travis Kalanick told Business Insider in June 2016 he wanted to delay a public offering as long as possible. He said a potential IPO could happen between one and 10 years from then.
A company losing money isn't a deterrent for some IPO investors, but Kalanick could delay the Uber IPO until the company is close to profitability. That could attract more retail investors on the Uber IPO date.
Don't Miss: Uber's valuation has grown from $316 million to over $68 billion in five years – a 215-fold return. Pre-IPO gains like that used to be reserved for the ultra-wealthy. But not anymore. Click here…
The second reason the Uber IPO could be delayed is a growing list of controversies ranging from technology used to deceive authorities to sexual harassment charges.
Video
Uber Controversies Continue
Uber created a tool called Greyball, which has been allegedly used as far back as 2014 to deceive officials in cities where Uber is not allowed to operate. In these municipalities, Greyball was used so no Uber car would pick up authorities trying to unearth illegal Uber ride-sharing.
But the controversy doesn't stop there…
Susan Fowler, a former Uber engineer, wrote an article about sexual harassment she experienced at Uber on Feb. 19. Fowler claims the company threatened to terminate her as a result of bringing sexual harassment claims to HR.
The third and final reason the Uber IPO may be indefinitely delayed is the massive amount of lawsuits brought against Uber.
According to CNN, there were more than 70 pending federal suits as of August 2016. The lawsuits are costly (Uber just settled one lawsuit in January for $20 million), which won't help Uber reach profitability anytime soon.
All of this suggests the Uber IPO date could still be several years away.
However, Money Morning Director of Tech & Venture Capital Research Michael A. Robinson has a way to profit from IPOs as we wait for the Uber IPO date…
Don't Wait for the Uber IPO Date to Make Money