(Kitco News) – Global stock markets were mixed in quieter dealings Wednesday. There were no major news developments overnight. U.S. stock indexes are pointed toward narrowly mixed openings when the New York day session begins.
Gold prices are weaker Wednesday on a corrective pullback from recent gains that pushed the metal to a four-week high this week.
The world marketplace is eyeing the U.S. stock indexes. Traders and investors are wondering if recent losses in stock markets mean the end of the record-setting "Trump rally" that had been in place since the U.S.
president was elected in November. Solid rebounds in the U.S. stock indexes Wednesday favor the camp that believes the recent selling pressure in stocks was just a normal downside correction in a bull market that still has legs.
How the U.S. stock indexes close on Friday-near the weekly highs or the weekly lows-will provide clues on the future health of the very mature bull market in equities.
The key outside markets on Wednesday morning see the U.S. dollar index slightly higher. The greenback bears still have the overall near-term technical advantage as prices are in a downtrend on the daily bar chart.
Meantime, Nymex crude oil prices are firmer on short covering. However, the bears remain in near-term technical control of this market.
U.S. economic data due for release Wednesday includes the weekly MBA mortgage applications survey, pending home sales, and the weekly DOE liquid energy stocks report.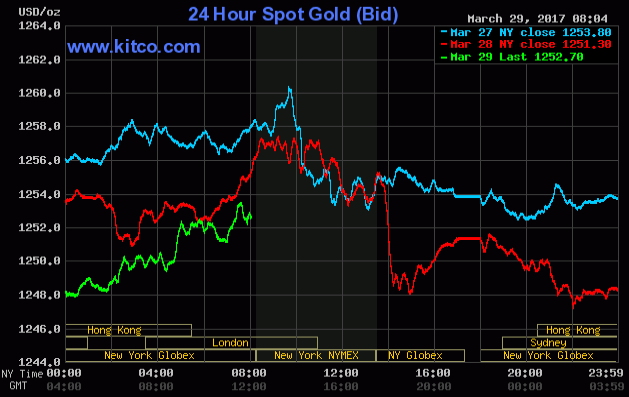 By Jim Wyckoff, contributing to Kitco News; jwyckoff@kitco.com
Follow Jim Wyckoff @jimwyckoff for breaking news.