On Wednesday, U.S. President Donald Trump took to Twitter to criticize one of his most hated media companies, New York Times Co. (NYSE: NYT).
Within the 140-character limit, he described the publication as "failing":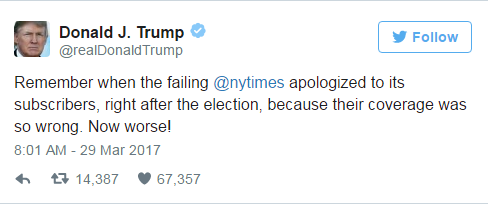 The president has proven anything but shy when it comes to criticizing mainstream media -- especially The New York Times. His claims that NYT is failing began well before last year's election...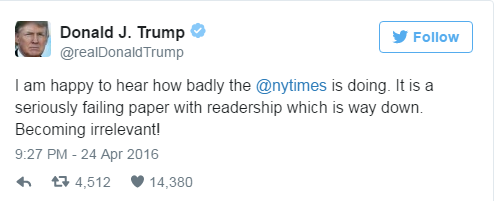 But no matter how POTUS feels about the Times, the numbers show the publication is one of the lone survivors in what has become a mass of failing media operations...
Must See: Get $45,000 Worth of Our Best Stock Research for Just Pennies a Day
New York Times' Stock Is Anything but Failing
Since Trump's election on Nov. 8, 2016, shares of New York Times Co. are up 30%: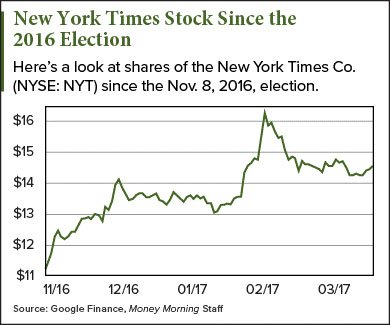 And in 2017, NYT stock is up 9% so far -- 4.5% better than the Dow and much, much healthier than any of its print counterparts: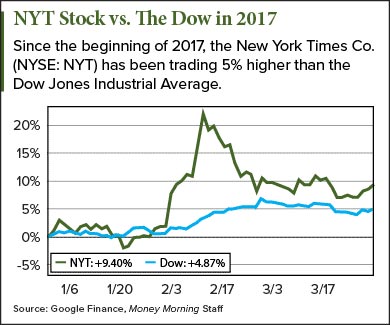 In fact, Gannett Co. Inc. (NYSE: GCI), the largest U.S. newspaper publisher as measured by total daily circulation and the parent company for the USA Today, is down 15% on the year. McClatchy Co. (NYSE: MNI), which operates 29 daily newspapers in 14 states and has an average weekday circulation of 1.6 million, is in the red 30% in 2017. And the poorly named tronc Inc. (Nasdaq: TRNC) (formerly Tribune Publishing) is down 1% this year.
So while Trump puts out that the newspaper is "dying," the company is doing the total opposite: It's growing...
New York Times has become one of the industry's most prominent digital media companies. Digital ad sales were up 11% in the most recent quarter (Q4 2016), and digital subscriptions added 276,000 readers in the same period -- the best quarter since 2011. That means the total number of digital and print subscriptions is now over 3 million.
Start Making More Money Now: Get stock picks and research that could put an extra $125,000 in your pocket delivered straight to your inbox for just pennies a day. Read more...
To get more up-to-date news on stocks in the news, follow us at @moneymorning or on Facebook.