Investing in platinum has been a market-beating profit strategy so far in 2017.
While the Dow Jones Industrial Average is up 4.9% since Jan. 1, platinum prices have climbed 5.1% from $906 to $952 per ounce over the same period. That means any investors who bought platinum futures at the start of the year have since earned a $46 return per ounce.
However, Money Morning Resource Specialist Peter Krauth sees even bigger returns for investors willing to hold on to platinum in 2017. In fact, he expects investors to net a $348 profit by the end of the year as the price of platinum rises 36.6% to $1,300.
And there are two important factors that will fuel the platinum price rally...
2 Huge Factors That Will Make Investing in Platinum Profitable in 2017
Factor No. 2: Platinum's Huge Role in Motor Vehicles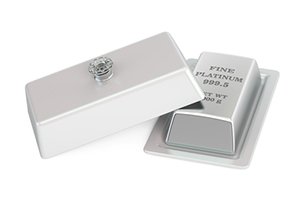 Platinum is a primary component of catalytic converters - a device used in cars, motorcycles, and buses that reduces emission toxicity.
Instead of discharging harmful exhaust directly into the air, vehicles send it through catalytic converters, which make the gas less harmful for the environment. The U.S. Environmental Protection Agency (EPA) has required most auto manufacturers to install catalytic converters in their vehicles since 1975.
Platinum is critical to catalytic converters because it helps oxidize harmful carbon monoxide and hydrocarbon gases. Krauth says roughly 43% of all consumed platinum is used in catalytic converters. That makes the auto industry the largest industrial source of platinum demand, beating the 35% used by jewelry producers.
And platinum's use in these converters will only increase as car sales in Western Europe and the United States rise...
According to IHS Markit, Western Europe - which includes France and the UK - will see a 1% increase in auto sales this year from 14 million to 14.14 million. In the United States, Trading Economics forecasts car sales will rise 1.1% from 18.5 million right now to 18.7 million by 2020.
It's important to remember these estimates are conservative since analysts don't know how consumers will react to various geopolitical events. These include the French election and ongoing Brexit talks in Europe, as well as Trump's pressuring of auto manufacturers to keep production operations here in the United States.
If sales surpass those estimates, platinum prices could top our 2017 forecast of $1,300. That would make investing in platinum more profitable this year.
What's more, we've just come across new data showing how traders and investors are growing more confident in the metal's long-term profit potential.
Here's the second bullish catalyst that could hand investors a 36.6% profit this year...
Factor No. 1: Rising Platinum ETF Inflows
The bigger factor behind our $1,300 platinum price target is the recent surge in platinum ETF inflows.
[mmpazkzone name="in-story" network="9794" site="307044" id="137008" type="4"]
According to recent data from Bloomberg, the number of positions in platinum ETFs climbed for six straight weeks between Feb. 10 and March 17. That was the longest streak of rising inflows since November 2016.
The number of long futures contracts - which investors buy when betting on a long-term rally -on platinum skyrocketed from about 5,000 last September to 40,000 on March 17. That's an incredible sevenfold increase in the number of traders and investors expecting the price of platinum to rise this year.
Analysts said that strong supply and demand dynamics will boost platinum in 2017. Platinum is very difficult to mine, meaning there is less supply. After all, roughly 168.9 metric tons of the metal were produced last year compared to 3,100 metric tons of gold. Not to mention domestic platinum inventories tracked by the New York Mercantile Exchange (NYMEX) fell for the fourth straight week on March 17.
And the World Platinum Investment Council expects platinum consumption will surpass supply by roughly 120,000 ounces in 2017. That would make this the fifth consecutive year of a platinum deficit.
The Bottom Line: With prices up 4.9% this year, investing in platinum has proven to be a fairly lucrative strategy for patient investors. And those patient investors will continue to be rewarded this year as we predict the platinum price rally to hand investors a $348 - or 36.6% - return by the end of 2017. These gains will likely come from the metal's growing use in the auto industry and the climbing number of positions in platinum ETFs.
Must See: A door has opened for an ultra-rare but powerful anomaly in the stock market... It involves a precious metal, one that's considered exceedingly more rare than gold. Get all the details.
Follow Money Morning on Facebook and Twitter.
Related Articles: