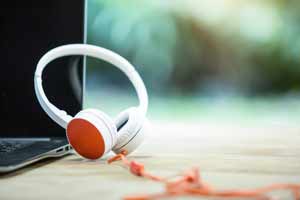 Will there be a Spotify IPO in 2017?
The answer seemed like "yes" at the beginning of 2017, but Business Insider reported on Feb. 2 that the Spotify IPO could be delayed until 2018. That's because the streaming music service needs to improve its balance sheet and potentially modify its business model.
Here's more on Spotify and why the highly anticipated IPO could be delayed…
What to Know Before the Spotify IPO Date
Spotify is a highly successful music streaming service that boasts 50 million subscribers as of March 2017. In comparison, Apple Inc. (Nasdaq: AAPL) had 20 million paid subscribers as of December 2016.
But Spotify still isn't profitable despite its massive user base…
Must See: Get $45,000 Worth of Our Best Stock Research for Just Pennies a Day
It was paying a royalty rate of 55% to record labels and artists as of August 2016. And according to leaked financials reported by Music Business Worldwide in May 2016, Spotify may not be profitable until the royalty rate drops to 49%.
From 2009 to 2015, Spotify has reported negative income, as you can see in the accompanying chart.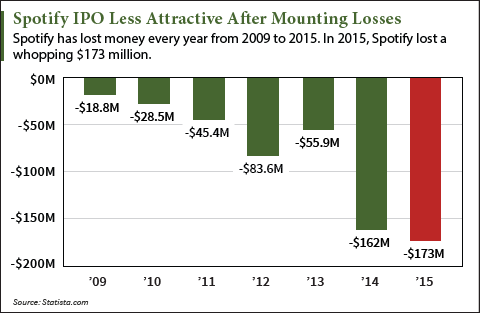 However, Spotify still has a lofty valuation despite the negative income…
How Much Is Spotify Worth?
According to investment bank GP Bullhound, Spotify could have a valuation as high as $53 billion by 2020.
The investment bank also speculated in September 2016 that if Spotify went public in 2017, it would have a valuation of $20 billion if it generated $5 billion in revenue. Revenue totals aren't available for 2016. But we do know Spotify generated $2.18 billion in revenue for 2015.
Now, you may be asking why there's so much interest in a company that may never be profitable.
You see, there's a potential billion-dollar reason why speculative investors are so eager for a Spotify IPO….