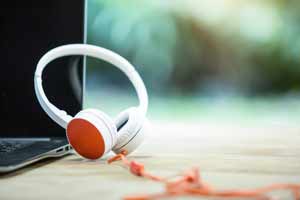 Will there be a Spotify IPO in 2017?
The answer seemed like "yes" at the beginning of 2017, but Business Insider reported on Feb. 2 that the Spotify IPO could be delayed until 2018. That's because the streaming music service needs to improve its balance sheet and potentially modify its business model.
Here's more on Spotify and why the highly anticipated IPO could be delayed...
What to Know Before the Spotify IPO Date
Spotify is a highly successful music streaming service that boasts 50 million subscribers as of March 2017. In comparison, Apple Inc. (Nasdaq: AAPL) had 20 million paid subscribers as of December 2016.
But Spotify still isn't profitable despite its massive user base...
Must See: Get $45,000 Worth of Our Best Stock Research for Just Pennies a Day
It was paying a royalty rate of 55% to record labels and artists as of August 2016. And according to leaked financials reported by Music Business Worldwide in May 2016, Spotify may not be profitable until the royalty rate drops to 49%.
From 2009 to 2015, Spotify has reported negative income, as you can see in the accompanying chart.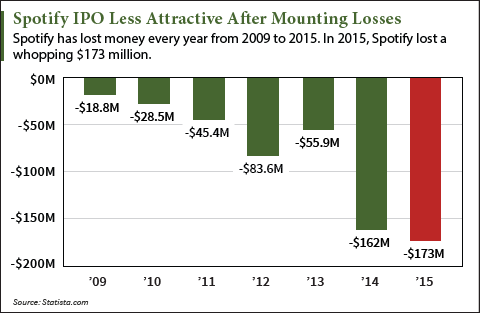 However, Spotify still has a lofty valuation despite the negative income...
How Much Is Spotify Worth?
According to investment bank GP Bullhound, Spotify could have a valuation as high as $53 billion by 2020.
The investment bank also speculated in September 2016 that if Spotify went public in 2017, it would have a valuation of $20 billion if it generated $5 billion in revenue. Revenue totals aren't available for 2016. But we do know Spotify generated $2.18 billion in revenue for 2015.
Now, you may be asking why there's so much interest in a company that may never be profitable.
You see, there's a potential billion-dollar reason why speculative investors are so eager for a Spotify IPO....
[mmpazkzone name="in-story" network="9794" site="307044" id="137008" type="4"]
Spotify Could Be a Takeover Target
Spotify isn't profitable, but its competitors would love to have Spotify's subscribers added to their user base.
Alphabet Inc. (Nasdaq: GOOGL), Google's parent, apparently thought that way in 2013. According to The Wall Street Journal, Google offered $4 billion to $5 billion for the streaming music site.
Spotify turned the offer down, wanting at least $10 billion.
Investors have also speculated that if Apple's user growth slows for its music service, it could place a bid for Spotify. Apple certainly has the cash to purchase Spotify, with $246.09 billion as of Jan. 31.
Combining Spotify's paying customers with its own, Apple would have a total of 70 million paid music subscribers.
But owning shares in Spotify just because it could be a takeover target is risky. For example, rumors at the end of September 2016 that Twitter Inc. (NYSE: TWTR) would be bought sent the stock price from $18.52 per share on Sept. 22, 2016, to a midday high of $25.25 on Oct. 5, 2016.
The rumors turned out to be untrue, and the Twitter stock price has plummeted since then. Opening at $15.05 a share today, investors still holding on to their $25.25 TWTR investment have watched the value of their shares drop more than 40%.
To keep up with the latest developments in the IPO and tech market, make sure to sign up for our free Profit Alerts service. You'll receive recommendations in real time, and you'll never miss a profit pick again.
Don't Miss: This investing strategy has delivered 217 double- and triple-digit peak-gain winners since 2011. And you can get access for just pennies a day. Learn more...