(Kitco News) - Asian shares were weaker overnight, while European stocks were mostly firmer. There has been a lack of major, markets-moving news in the marketplace this week. The Chinese stock market led the Asian declines, as China's central bank continues to squeeze short-term interest rates higher.
China's government wants to clamp down on business speculation by tightening its money supply. U.S. stock indexes are pointed toward modestly lower openings when the New York day session begins.
Gold prices are weaker again Thursday on some more profit taking from recent gains that saw prices hit a four-week high earlier this week. The gold market bulls are still in good shape, technically.
The key outside markets on Thursday morning see the U.S. dollar index higher. The index is seeing a solid rebound from a 3.5-month low hit earlier this week and the bulls have gained some technical momentum. Meantime, Nymex crude oil prices are weaker. The oil bears still have the overall near-term technical advantage, but the bulls have gained some upside momentum this week.
U.S. economic data due for release Thursday includes the weekly jobless claims report, the final estimate of fourth-quarter gross domestic product, and fourth-quarter corporate profits data.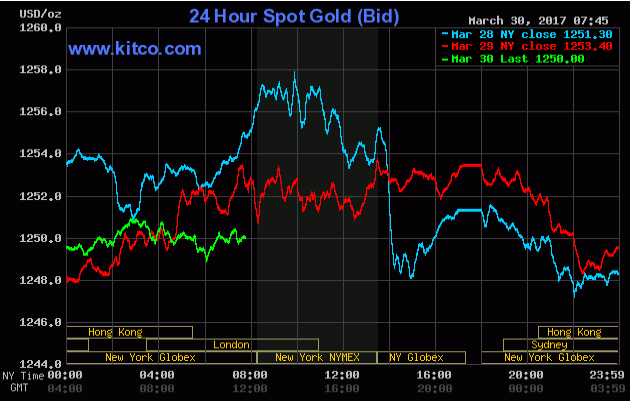 By Jim Wyckoff, contributing to Kitco News; jwyckoff@kitco.com
Follow Jim Wyckoff @jimwyckoff for breaking news.