(Kitco News) - Global stock markets were mostly weaker Friday. U.S. stock indexes are pointed toward modestly lower openings when the U.S. day session begins. The U.S. stock indexes have made impressive price rebounds from selling pressure seen early this week, including the Nasdaq stock index hitting a record high on Thursday.
Gold prices are modestly lower as the U.S. day session is set to get under way. The rebound in the U.S. dollar index this week has weighed on the precious metals markets.
Friday is the last trading day of the week, of the month and of the first quarter, which makes it an extra-important trading day from a technical perspective.
In overnight news, the Euro zone consumer price index in March was up 1.5%, year-on-year, versus a reading of up 2.0% in February. The March reading was less than expected.
The key outside markets on Friday morning see the U.S. dollar index higher.
The index is seeing a solid rebound from a 3.5-month low hit earlier this week and the bulls have regained the slight overall near-term technical advantage. Meantime, Nymex crude oil prices are weaker. However, the oil bulls have gained good technical momentum this week to suggest that a near-term market bottom is in place.
U.S. economic data due for release Friday includes personal income and outlays, the ISM Chicago business survey, and the University of Michigan consumer sentiment survey.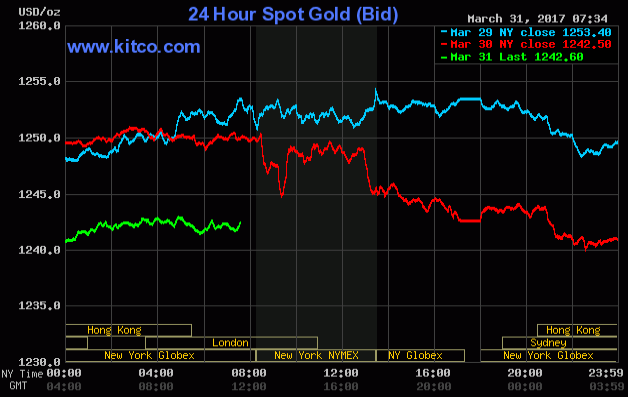 By Jim Wyckoff, contributing to Kitco News; jwyckoff@kitco.com
Follow Jim Wyckoff @jimwyckoff for breaking news.