With the silver price in 2017 now up 13.9% this year, silver has become attractive for investors again.
The precious metal spent the last trading week above $18, climbing first, then holding steady even as the gold price retreated and the dollar strengthened.
I've been telling you that silver prices have enormous potential, and as we move forward in this precious metals bull market, the price of silver is likely to outperform the price of gold.
Keep in mind, though, that silver is volatile. One thing is certain; it won't rise in a straight line.  It's going to move much higher, but that's likely to happen in fits and starts.
Silver's looking really strong right now, but, as I'll show you, it may have gotten a bit ahead of itself in the very near term. A correction would not be a surprise, and for traders and investors, that should be treated as a buying opportunity.
Let's take a look at the silver price performance last week, then I'll give you my specific silver price target for the end of 2017.
Silver Price in 2017 Tacks on Another 2.6% Weekly Gain
After closing at $17.75 on Friday, March 24, the metal opened higher on Monday at $17.96. Prices powered throughout the day to close at $18.09 for a 1.9% gain.
On Tuesday, March 28, the price of silver opened lower but managed to push higher in morning trading. It surged to $18.18 – a level not seen since March 1. By the close, the metal was at $18.16 for a 0.4% gain.
Overnight weakness wasn't enough to keep silver prices from posting more gains during the Wednesday session. After opening at $18.11, the metal grinded 0.3% higher to settle at $18.21.
All of this came despite consistent gains in the U.S. Dollar Index (DXY), which you can see in this chart here…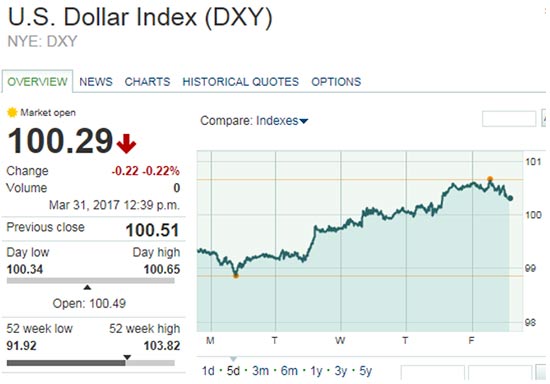 The dollar eventually overwhelmed silver prices on Thursday. As the DXY surged to 100.5, prices fell 0.7% to close the day at $18.09.
On Friday, March 31, a weaker dollar pushed the price of silver higher. It ended the week at $18.22 for a 0.7% daily gain and 2.6% weekly gain.
With last week's jump back above the $18 mark, it's clear that silver market sentiment is significantly improving. This shift is worth looking at more closely, as it can tell us a lot about where the silver price in 2017 is heading.
Here's our prediction for where the metal will be by the end of the year…
Our Bold New 2017 Silver Price Target
Join the conversation. Click here to jump to comments…
About the Author
Peter Krauth is the Resource Specialist for Money Map Press and has contributed some of the most popular and highly regarded investing articles on Money Morning. Peter is headquartered in resource-rich Canada, but he travels around the world to dig up the very best profit opportunity, whether it's in gold, silver, oil, coal, or even potash.