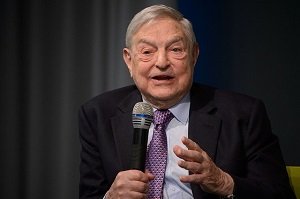 Even George Soros' billions can't help him out of the latest bind he's in with his home country's nationalistic government.
Just today, the Hungarian parliament passed a new law that could force George Soros-funded Central European University (CEU) to close its doors after 26 years.
Image Caption: George Soros speaking in Munich, March 20, 2014.
CEU was financed and built by Soros in 1991 in the wake of Hungary's Communist collapse.
Thousands of students, professors, and supporters have rallied in recent days to keep the university open. They cite its historical relevance to the country's history as one good reason.
These protestors likewise demanded the Hungarian government withdraw the draft legislation set to be voted on today.
That withdrawal never came. And the bill was a success…
Specifically, the legislation centered on modifying current Hungarian laws about foreign universities that operate within the country.
But CEU claims that one part of the bill in particular was drafted solely to target the Soros-funded institution….
And George Soros himself…
The Hungarian Government Is Gunning for George Soros
CEU awards diplomas that are recognized by both Hungary and the United States. Other such schools in Hungary only award diplomas that are recognized within the country.
Must See: Get $45,000 Worth of Our Best Stock Research for Just Pennies a Day
Hungarian Prime Minister Viktor Orban claimed on Friday (March 31) that this advantage was "cheating" on CEU's part and in violation of national regulations in awarding diplomas.
Orban is also a longtime critic of Soros…
Though CEU maintains that it has never violated any such regulations, its protests went largely ignored by parliament.
And today's new bill all but guarantees the school's eventual closure…