(Kitco News) – World stock markets were mostly weaker Tuesday. U.S. stock indexes are also set for modestly lower openings when the New York day session begins.
Traders and investors are a bit tentative Tuesday, ahead of important happenings later this week. The world marketplace will be closely watching the meetings this week between U.S. President Donald Trump and Chinese leader Xi Jinping. FOMC minutes are out Wednesday afternoon and the U.S. employment report is due Friday morning.
Some weaker-than-expected U.S. economic data released Monday is also putting just a bit of apprehension into the world marketplace.
Gold prices are posting decent gains Tuesday, supported in part by the weaker world equity markets and by Monday's downbeat U.S. economic reports.
In overnight news, the Euro zone reported its retail sales in February were up 0.7% from January and up 1.8%, year-on-year. Those numbers were better than the marketplace expected.
The key outside markets on Tuesday morning see the U.S. dollar index firmer. The index has seen a solid rebound from a 3.5-month low hit last week and the bulls have the slight overall near-term technical advantage. Meantime, Nymex crude oil prices are also modestly higher. The oil bulls have some upside technical momentum to suggest a near-term market bottom is in place.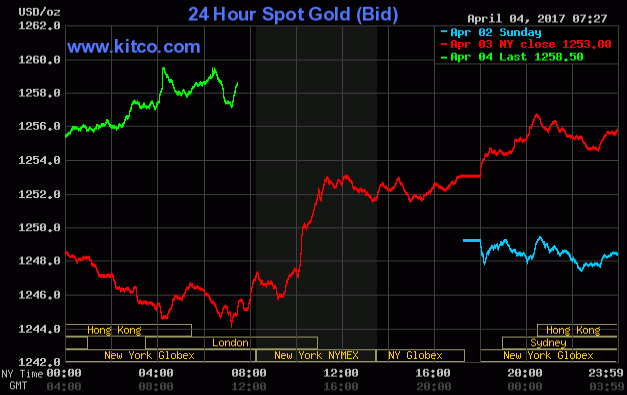 U.S. economic data due for release Tuesday includes the weekly Goldman Sachs and Johnson Redbook retail sales reports, the international trade report, the ISM New York report on business, manufacturers' shipments and inventory, and the IDB/TIPP economic optimism index.
By Jim Wyckoff, contributing to Kitco News; jwyckoff@kitco.com
Follow Jim Wyckoff @jimwyckoff for beaking news