Almost exactly 20 years ago to the day, Amazon.com Inc. (Nasdaq: AMZN) went public.
Since then, Amazon has weathered two of the biggest financial crises in U.S. history, the dot-com bubble and the Great Recession, to become one of the hottest tech stocks on the market...
It is currently in a race with Apple Inc. to become the first company with $1 trillion market capitalization. And just on Wednesday (March 29), CEO and founder Jeff Bezos displaced Berkshire Hathaway mogul Warren Buffett as the second-richest person in the world, only behind Microsoft CEO Bill Gates.
Through Bezos' aggressive research and development program, his e-commerce juggernaut has been crushing its brick-and-mortar counterparts.
In fact, if you take a look at Amazon compared to the SPDR S&P Retail (XRT), an exchange-traded fund (ETF) designed to track the broad retail sector that includes the likes of Best Buy Co. Inc. (NYSE: BBY) and Nordstrom Inc. (NYSE: JWN), you will see just how considerably AMZN stock has outpaced it: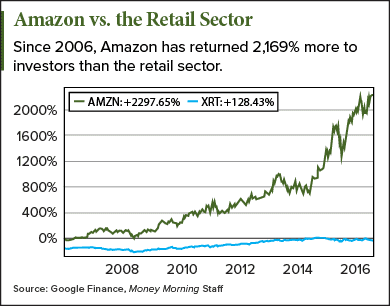 However, that wasn't always the case...
Amazon's Humble IPO Beginning
When Amazon first went public in 1997, its stock was priced at just $18 per share. And in its filing, CEO Jeff Bezos noted that he had ambitions beyond books. He aspired to become "the leading on-line retailer of information-based products and services."
Early on, Amazon didn't turn a profit. Bezos steadfastly invested his company's net income into technology and marketing to help the company grow. In the IPO filing, Bezos stated that the company expected to report "substantial operating losses for the foreseeable future" and that "the rate at which such losses will be incurred will increase substantially."
Don't Miss: This investing strategy has delivered 217 double- and triple-digit peak-gain winners since 2011. And you can get access for just pennies a day. Learn more...
And with that vision in mind, Amazon has become the eighth-largest retailer in the world in two decades. Just recently on Tuesday (March 28), Amazon bought Souq.com, the Middle East's biggest online retailer.
What Your $1K Is Worth Now
Amazon stock now trades at $885.92 -- a 51,209% return since its IPO on March 23, 1997.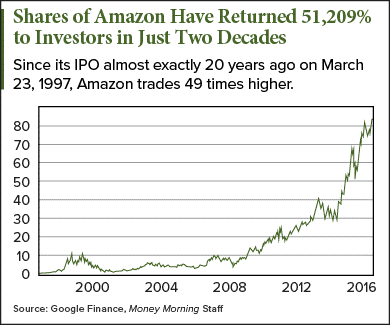 A $1,000 investment in Amazon at its debut would have bought 55 shares. Since then, the company has split its shares three times:
On June 2, 1998, a 2-for-1 split
On Jan. 5, 1999, a 2-for-1 split
On Sept. 2, 1999, a 3-for-1 split
All said and done, those 55 shares would've multiplied to become 660 shares. At the current price of $887 per share as of March 31, 2017, almost exactly 20 years later, that $1,000 would have grown to a staggering $585,420.
Editor's Note: One of the fastest-growing tech investment segments is... cannabis? Yes, you read that right. A high-tech approach to cultivating this ancient plant - that's already legal to use in more than half of 50 states - is generating a multibillion-dollar investment opportunity for early investors. Click here to find out more, including how you can get your copy of Michael Robinson's Roadmap to Marijuana Millions. Packed with more than 30 great companies to buy, it's fast becoming "the weed investor's bible." Check it out...
To get more up-to-date news on Amazon stock, follow us at follow Money Morning on Twitter @moneymorning, Facebook, and LinkedIn.