With potentially 315 billion barrels of oil reserves, the Canadian oil sands are the third-largest oil reserves in the world. But high production costs have led to the oil sands falling out of favor with investors.
That's a big mistake. You see, there is one company in Canadian oil sands with a new technology for drilling that could bring 70% profits for investors in 2017...
While the oil sands, also called tar sands, have vast stores of oil, the oil has been notoriously expensive to extract. That means the Canadian oil sands aren't profitable when oil prices are low. That's put a damper on the oil tar industry since oil prices crashed from over $100 a barrel in 2014 to below $30 a barrel in January 2016.
But a radical new chemical breakthrough is slashing the costs of production in the oil sands...
That means this massive reserve of oil is suddenly becoming a profit juggernaut. That's one of the reasons the Keystone XL pipeline will be winding its way from the oil sands in Alberta to distribution hubs in Illinois and the Gulf Coast.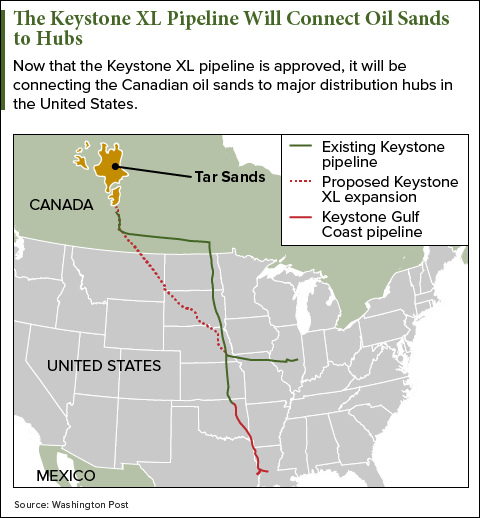 And right now only one oil sands company has this new technology. Here's why this is the best time to invest in the oil sands and the company that could bring investors explosive profits in 2017...
Now Is the Perfect Time to Play the Tar Sands
Sign up for SMS so you never miss special events, exclusive offers, and weekly bonus trades.
Getting oil out of the
Canadian tar sands
is an expensive process, which is why the vast oil reserves in Canada have fallen out of vogue since 2014. The oil that comes from this area is called "bitumen," and it's trapped in a mixture of clay and sand deep underneath the ground. To extract the oil, companies need technology to both drill deep and to find a way to separate the oil from the sand once it's out.
While that process is costly, there are two big reasons this is the perfect time to invest in oil sands.
First, most of these expensive costs are paid upfront. That means after oil companies make an initial investment, the breakeven cost for oil sands falls drastically.
"While the fixed investment in new oil sands projects is prohibitive, variable costs can be in the low $20 range per barrel," according to a March 20 Wall Street Journal story.
That means once a company has paid the upfront costs of production, it can rake in profits from oil sands right now, as WTI crude is trading at $51.23 a barrel. And we forecast oil prices heading even higher in 2017, especially if OPEC renews its production cut agreement in June. Our 2017 oil price forecast expects oil prices to rise over 20% higher.
But for companies that haven't finished the big upfront investment in oil sands, American shale oil is more economical. Shale oil has higher variable costs, but the upfront costs are lower, which gives big oil companies more flexibility with oil prices in the $50 range. That's why a lot of major companies are leaving the oil sands...
Must Read: Five Double-Digit Dividend Plays to Secure Your "Second Salary"
Second, Big Oil companies are unloading valuable oil sands real estate to companies that actually know how to profit.
On March 9, Marathon Oil Corp. (NYSE: MRO) sold off $12.74 billion in oil sands assets. The same day, Royal Dutch Shell Plc. (NYSE ADR: RDS.A) announced it was selling $7.25 billion in its assets there.
And the company that's developed the chemical breakthrough to slash production costs is buying up these assets.
That's why Wall Street analysts are projecting this company's revenue could shoot up 100% this year alone.
And the same analysts are projecting shares of its stock could soar 70% higher in 2017, too.
On top of that, this stock is a steal right now at just $11 a share.
Here's our best Canadian oil sands stock for big-time profits in 2017...
The Best Canadian Oil Sands Stock to Buy Now