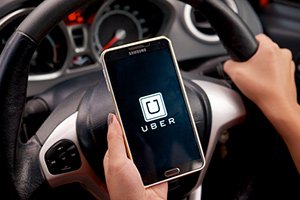 Investors are anxiously waiting their chance to buy Uber stock in 2017, but the wait to own shares of the $70 billion company will most likely continue.
Uber CEO Travis Kalanick told Business Insider in 2016 he wants to delay an IPO for as long as possible. He said Uber could go public sometime between 2017 and 2026.
However, that was before a long list of controversies emerged...
Authorities reportedly conducted stings in cities where Uber wasn't allowed as early as 2014. In response to authorities cracking down on the ride-hailing app, Uber used a tool called "Greyball" to avoid picking up authorities in sting operations.
And this is just one reason why the Uber IPO could be delayed...
The Growing List of Problems Before the Uber IPO Date
In mid-March Uber President Jeff Jones announced he was quitting amidst the company's growing controversies. Jones, the former chief marketing officer for Target Corp. (NYSE: TGT), had only been installed as president of Uber since August 2016.
Don't Miss: America's richest investors are pumping millions of dollars into penny stocks - and we found a way to get behind their exact same trades for a chance at life-changing profits. Read more...
Jones had also previously worked for Coca-Cola Co. (NYSE: KO) and Gap Inc. (NYSE: GPS), and he was brought into the fold at Uber to help improve its reputation. Lawsuits, sexual harassment claims, and the Greyball controversy were simply too tall of an order for even the most talented marketing professional.
Speaking of lawsuits, as of last summer, Uber has more than 70 federal lawsuits pending. Vehicle accidents, drivers who want benefits and pay increases, and sexual harassment claims are not precursors for a successful IPO.
If you've been anxiously awaiting the Uber IPO, you should redirect your energy and your investment dollars.
That's because Money Morning Director of Tech & Venture Capital Research Michael A. Robinson has a strategy to make money from IPOs right now...
Bypass Uber Stock and Consider This IPO Investment Instead