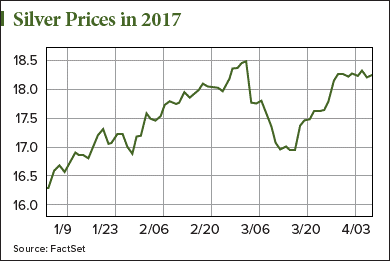 In silver price news today (Thursday, April 6), prices are up 0.3% and trading at $18.25. With that slight gain, silver prices have now climbed 2.7% in the last month and 14.1% so far in 2017.
But the even bigger news for the metal has to do with an ongoing trend in the broader market right now.
And this trend supports Money Morning Resource Specialist Peter Krauth's bullish 2017 silver price prediction, which shows a massive double-digit return by the end of the year.
First, here's the trend that's been dominating headlines recently…
This Market Trend Has Been Shaping Silver Price News Recently
The trend we're talking about has been the recent decline in the stock market – particularly the Dow Jones – since early March.
You see, the markets saw a meteoric rise in the months following Donald Trump's election win on Nov. 8, 2016. From that date to its peak on March 1, 2017, the Dow Jones Industrial Average soared 13.1% to 21,115.55. The index broke several records during that time, including reaching above 20,000 and 21,000 for the first time ever.
Urgent: The Best Stocks to Buy for Mega Profits in 2017
The main reason investors poured into stocks was Donald Trump's promises of business deregulation and big tax cuts. On Feb. 9, Trump teased he would soon roll out his new tax plan, which proposed slashing the corporate tax by 20%.
But investors have started to worry these pro-business policies won't go into effect anytime soon due to the GOP's ongoing battle to replace Obamacare. Markets are seen as overvalued, a stance reinforced by the March FOMC meeting minutes released yesterday (Wednesday, April 5).
All of this has dragged the Dow Jones 1.8% lower since March 1. Meanwhile, the price of silver has climbed 2.7% higher over the last month.
That's because worried investors are adding silver to their portfolio due to its safe-haven qualities. Safe-haven investments are popular because they tend to increase in value during times of market volatility. They're often treated as a long-term hedge rather than a short-term profit opportunity.
Since market volatility could very well continue until Trump's tax cuts are implemented, silver prices should keep rising in 2017.
Krauth – a 20-year veteran of the gold and silver sectors – agrees that prices will run higher. That's why his silver price forecast is extremely bullish.
Here's how high he sees silver heading…
Silver Prices Will Reach This Target by the End of 2017