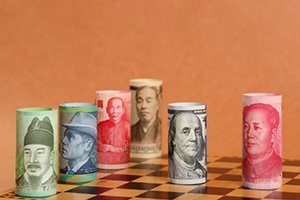 A deal with China made during today's (April 6) meeting between U.S. President Donald Trump and Chinese President Xi Jinping could result in a dangerous compromise...
Experts are predicting Xi will come to the table with tempting economic deals for the new U.S. president:
"[China] may make offers to buy a large number of Boeing Co. (NYSE: BA) airplanes or other investments, allowing Trump to claim he negotiated a deal to help the economy," Jacques deLisle, professor of Chinese Law at the University of Pennsylvania, told Bloomberg yesterday (April 5).
"One of the few things the Chinese president could easily offer [Trump] is more Chinese investment in infrastructure and America's manufacturing heartlands, whose voters propelled the U.S. president to victory in last November's election," wrote Financial Times' Beijing bureau chief Tom Mitchell this morning.
But President Trump's acceptance of these economic enticements may come at the expense of U.S. allies in Asia...
The Cost of a Deal with China: The Safety of U.S. Allies
"Economic deals are fleeting," wrote Michael Fuchs, a former State Department deputy secretary and current research fellow at the left-leaning Center for American Progress Institute, in The Guardian today. "Security frameworks take decades to build, but minutes to squander."
Fuchs explained that if Xi offers packages of economic investments in the United States, he may very well ask that that the U.S. roll back its military presence in the Pacific in return...
Specifically, the Chinese president could make the following requests:
That Trump reduce the number of military exercises it carries out on the Korean peninsula
That Trump attempt to restrain U.S. ally Japan in the East China Sea
That the U.S. either reduce or halt its "freedom of navigation" exercises in the South China Sea
Agreeing to these measures could result in our own allies doubting America's reliability, leaving them instead with the message that we value economic deals more than their safety.
And a diminished U.S. presence in each of the aforementioned regions - the East China Sea, the Korean Peninsula, and the South China Sea - could compromise our allies' strongholds there.
Up Next
China thinks it can push the United States and its allies out of Asia altogether to secure its energy riches for itself.
Thanks to a small $6 U.S. defense contractor with top-secret technology, the Pentagon has a plan to stop China dead in its tracks. Click here for the full briefing.
Follow Money Morning on Twitter @moneymorning, Facebook, and LinkedIn.
Related Articles: