(Kitco News) – Asian and European stock markets were mostly weaker Thursday, following the U.S. stock indexes' rapid declines late Wednesday. U.S. stock indexes are pointed toward slightly higher openings when the New York day session begins.
Gold prices are firmer Thursday morning on some safe-haven demand following the abrupt sell-off in U.S. shares on Wednesday afternoon.
In overnight news, European Central Bank President Mario Draghi said Thursday the ECB should not yet begin to tighten its monetary policy due to concerns that deflationary price pressures still exist. Draghi's comments contrast with the latest FOMC minutes, released Wednesday afternoon, that stated the Fed wants to start reducing its balance sheet this year (backing out of its quantitative easing mode).
Traders and investors will be closely watching the meetings between U.S.
President Donald Trump and Chinese leader Xi Jinping on Thursday and Friday.
The leaders of the world's two largest economies could come into some conflict over trade and currency matters.
The monthly U.S. employment report is due out Friday morning. The key non-farm payrolls number was seen coming in at up around 180,000 in March.
However, Wednesday's much-larger-than-expected rise of 263,000 jobs in the March ADP employment report has many ratcheting up their forecasts for the Labor Department's jobs report on Friday morning.
The key outside markets on Thursday morning see the U.S. dollar index slightly higher. The greenback bulls have the overall near-term technical advantage. Meantime, Nymex crude oil prices are near steady after hitting a four-week high Wednesday. The oil bulls have upside technical momentum to suggest prices can at least trade sideways, if not sideways to higher, in the near term.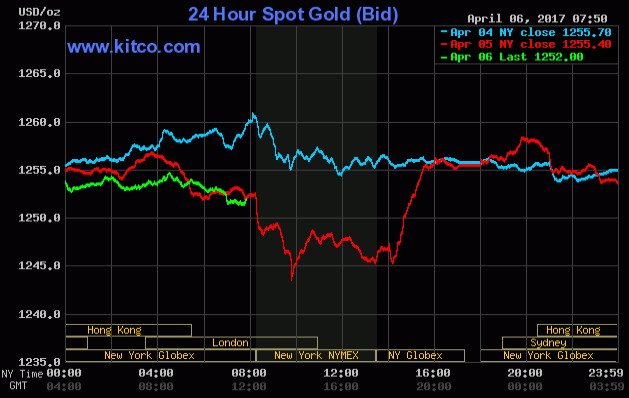 U.S. economic data due for release Thursday includes the weekly jobless claims report, the Challenger job cuts report, and monthly chain store sales.
By Jim Wyckoff, contributing to Kitco News; jwyckoff@kitco.com
Follow Jim Wyckoff @jimwyckoff for breaking news.