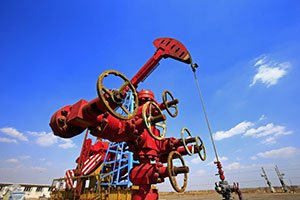 Investing in oil can sometimes seem like a daunting task. There's plenty of money to be made to be sure, but between futures contracts, upstream, downstream, shale, and tight oil, the options are seemingly endless.
That's why we're going to show you exactly how to invest in oil and why it's going to be such a lucrative play this year.
Oil prices have surged over the last year. Since hitting a 10-year low in January 2016, oil prices are up over 90%. And Money Morning Global Energy Strategist Dr. Kent Moors forecasts that oil prices will rise another 20% this year, too.
That's why we're going to show you exactly how to invest in oil and why your oil investments could net you double-digit gains this year...
How to Invest in Oil for Big Profits
First, you can trade oil futures contracts.
Oil futures allow big companies that have to purchase oil a way to limit their risk. By purchasing futures contracts, they can lock in a price for a specific time in the future. That way if oil prices shoot up, they can still buy oil at their contract price.
You can buy and sell futures contracts for a profit, too. If you own a futures contract and oil prices rise, you can sell it for a quick profit. But this is risky, and the only way to make big-time profits in futures is by moving a lot of money. That's not for everyone.
Don't Miss: Our Bold 2017 Oil Price Forecast and Price Prediction
Second, you can buy an oil ETF.
Many investors like oil ETFs because they are easy. They trade just like a stock and give you broad exposure to the oil industry.
But oil ETFs aren't going to bring you serious profits. That's because oil ETFs control both bad and good stocks, so even if some oil company stocks have a great run, the bad stocks are always going to weigh them down.
For example, one of the biggest oil ETFs is the iShares Dow Jones US Oil & Gas ETF (NYSE Arca: IEO). It's down 6% on the year, but savvy investors can easily find oil stocks that are already making gains this year, and we'll show you one below.
Third, oil investors can buy oil stocks.
Owning the right oil stocks is the best way to invest in oil. The best oil stocks will easily outperform oil ETFs, and they are going to bring you much bigger profits than trading oil futures.
But there are a lot of different types of oil stocks to consider, from production companies to refiners. Each sector of the industry has its own risks and profit potential.
That's why we're going to show you our top oil stocks to buy, so you can profit from one of the best oil investing climates we've seen in a long time...
Why Investing in Oil Is a Great Move for 2017
This year is going to be a great year for oil investing for three big reasons.
First, the OPEC deal to cut oil production will support higher oil prices.
On Nov. 30, 2016, OPEC and 11 other countries agreed to cut oil production by an aggregate 1.8 million barrels a day. This will cap OPEC's production at a total 32.5 million barrels per day. By slashing the supply of oil, prices will rise.
And since November, oil prices have jumped nearly 10%.
This is a big deal because OPEC hasn't agreed to a production cut since 2008. Moors also predicts as long as the OPEC agreement remains in force, prices will continue to climb in 2017.
Second, worldwide demand for oil is steadily rising.
The EIA reports energy demand will rise 25% by 2040. The heavily populated and rapidly developing countries of India and China look to be major sources of climbing demand.
And oil will remain the primary energy source, even as demand keeps growing. That's important because new forms of energy won't be squeezing oil out to fulfil this growing demand. It also means oil prices will be further supported.
Trending Now: The Best Stocks to Buy in April
Third, the Trump administration's energy policies are very friendly to the oil industry.
President Trump pledged on the stump to make "America energy independent" via slashing regulations that affect oil companies. So far, he's been doing exactly that. And that could make profits even bigger in 2017.
One of his first moves was to name Scott Pruitt, the former attorney general of Oklahoma, to helm the Environmental Protection Agency (EPA). Pruitt went up against the agency when he was attorney general, championing the Oklahoma-based oil companies.
In addition, some of President Trump's first actions in the Oval Office were designed to favor the oil industry. The first is a law ending a rule requiring oil companies to disclose any payments made to governments overseas. He also approved, by executive order, the previously contested Dakota Access and Keystone XL pipelines.
This all sets the stage for improved profitability for oil firms.
And against a backdrop of dropping supply and rising demand, it's a good scenario for investing in oil. Here's how to take advantage of the changing landscape for oil and bank double-digit profits with our best oil stocks of 2017...
The Best Oil Stocks to Buy in 2017