(Kitco News) – World stock markets were narrowly mixed in quieter overnight trading. U.S. stock indexes are pointed toward near-steady openings when the New York day session begins.
Gold prices are modestly lower on a corrective pullback from recent good gains that pushed prices to a multi-month high last week.
The world marketplace is not showing a significant reaction to the weekend news that the U.S. is sending a Navy task force to waters off of North Korea, to conduct exercises with the South Korean navy. Still, the tensions between North Korea and the U.S. are on the rise and this matter could be the next major geopolitical crisis that would have a major impact on world markets.
Fed Chair Janet Yellen delivers a speech late Monday in Michigan.
The key outside markets on Monday morning see the U.S. dollar index slightly higher and hitting a nearly four-week high overnight. The greenback bulls have the overall near-term technical advantage. Meantime, Nymex crude oil prices are firmer and trading near Friday's four-week high. The oil bulls have upside technical momentum to suggest prices can at least trade sideways, if not sideways to higher, in the near term.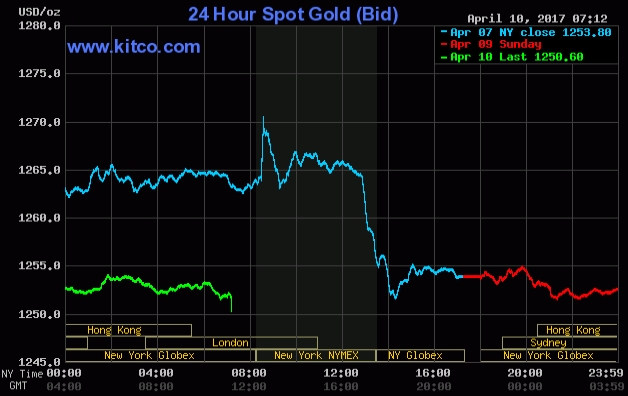 U.S. economic data due for release Monday is light and includes the employment trends index.
By Jim Wyckoff, contributing to Kitco News; jwyckoff@kitco.com
Follow Jim Wyckoff @jimwyckoff for breaking news.