Markets go up and markets go down, but they often go sideways, too. In fact, congested, range-bound markets are especially common now.
I call it "trading in the box." I'm going to show you why in a moment, because it's happening again – the major U.S. stock indexes are back in a box.
So now I'm looking for one very specific sign that we're moving on out of our latest trading range…
A Wider Range, but Stocks Are Still in a Box
If you look at the number of bars in the Friday incarnation of "The Box," you'll find 39 of 'em – that's one day short of eight full weeks.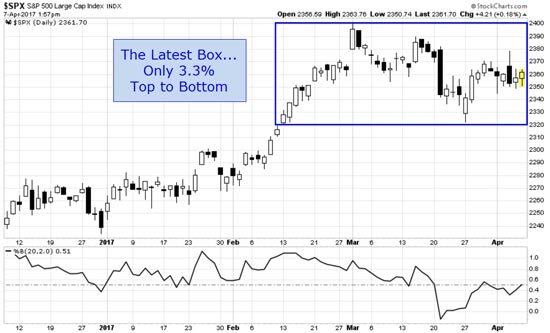 So what does this tell us? Once again, there's a balance between buyers and sellers that can't break us out.
On one side, the bulls are still optimistic that the Republican White House and Congress can push through pro-business legislation. On the other side, bears think this run up has lasted too long and has to correct. What's more, they have the whole litany of other bearish economic arguments that have been in play for a half-dozen years.
Those issues of debt, slow growth, etc., will come to fruition at some point – just not yet.
Here's why…
The Narrative Isn't Changing Now
Last week, of course, we had several very negative geopolitical events play out. A terrorist strike in one of Europe's biggest cities. A chemical weapons strike that killed 85 people in Syria. Bellicose language from the president that was then followed up by immediate military action.
All three resulted in down moves in the market. More importantly for us here, all three down moves were temporary in duration and minuscule in price impact.
The bottom line – when multiple "fronts" of negative news can't push the market down, this is clearly showing us that the narrative of economic optimism is still dominating the price action.
That's telling me something about this next chart here.
I've charted some channels that could give us an "early warning" when stocks break out to the upside:
Join the conversation. Click here to jump to comments…
About the Author
Nationally recognized technical trader. Background in  engineering, system designs, and risk reduction. 26 years in the markets.