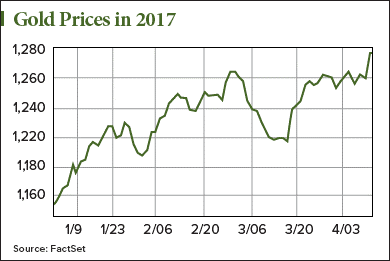 In gold price news today (Tuesday, April 11), the metal hit its highest level of 2017. Prices closed at $1,274.20 for a 1.6% gain on the day. That marks their highest settlement since Nov. 9, 2016.
There's one huge reason why gold prices are up today. It has to do with the U.S.' relations with two of the most violence-stricken nations in the world. And it supports Money Morning Resource Specialist Peter Krauth's bullish prediction that the price of gold will rise 9.9% to $1,400 per ounce by the end of 2017.
But our bold prediction concerns one of our favorite gold stocks of 2017. We think rising gold prices could push shares of this gold company up an incredible 81.9% over the next 12 months.
Here's why today's rally means more gains ahead for both gold prices and our gold stock recommendation…
The Bullish Gold Price News That Supports Our Stock Pick
The biggest news behind the gold price rally today is geopolitical uncertainty surrounding U.S. relations with Syria and North Korea.
The United States has been at odds with Syria since the onset of the country's civil war back in 2011. Under former President Obama and current President Trump, the U.S. government has supported the rebel forces in Syria that have been fighting President Assad's military forces.
Urgent: An incredibly rare gold anomaly is shaping up in the markets as we speak — one that has occurred ONLY twice in the past 20 years. And it's about to happen again. Details here…
Tensions between the United States and Syria escalated violently after Assad allegedly ordered a chemical attack on April 4 that killed at least 74 people. Trump responded three days later with a military strike of 59 cruise missiles on a Syrian base believed to be the source of the chemical attack.
Tensions between the U.S. and North Korea are also high right now as the latter continues to test ballistic missiles off the Korean Peninsula. After the U.S. government ordered an aircraft carrier to move toward the peninsula, North Korea said there could be "catastrophic consequences" for the move.
These geopolitical conflicts are usually bullish gold price news. Investors often buy gold and gold stocks during international crises because they're unsure of how the crises will affect the economy. Gold's safe-haven qualities allow the metal to maintain or increase in value during these uncertain times.
The U.S.' conflicts with Syria and North Korea appear to just be getting started. That means investors could keep purchasing gold throughout the year as the crises continue to unfold.
This is one of many reasons why Krauth thinks gold prices will climb 9.9% to $1,400 by the end of the year. And no gold sector will benefit more from that rise than the gold mining sector.
Gold mining stocks are a good investment this year because these companies will boost their production numbers in response to higher gold prices. That will boost their profit margins as the year goes on.
Here's one of the best gold mining companies to invest in, with potential returns of 81.9% in the next 12 months…
The Best Gold Stock to Buy Right Now