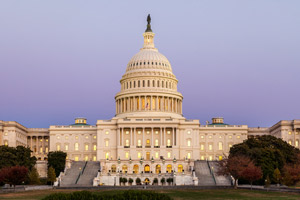 The current agreement funding the government expires on April 28, and that has a lot of people wondering, "will there be a government shutdown?"
A government shutdown is actually more likely than many investors think, and it's not getting nearly the attention it deserves. You see, a government shutdown could spook the stock market into a big drop as investors flee stocks for safer alternatives.
The prospects of a government shutdown in 2017 are being glossed over by politicians and the media, too. Speaker Paul Ryan says "we're not going to have a government shutdown," while MarketWatch claims it's "nothing for investors to fear."
Their optimism is completely unwarranted.
A government shutdown is a serious possibility, and we want our readers to be prepared for the fallout.
We're going to show you why a 2017 government shutdown could be coming this month and how investors can bank double-digit profits from the fallout...
A Government Shutdown Could Be Coming on April 28
A government shutdown happens when Congress fails to pass a budget to fund the government. And the continuing resolution currently funding the government is about to expire.
This agreement ends April 28. That means Congress will have to reach an agreement on a new spending measure before the deadline to ensure the government stays open.
That's not going to be easy...
New Report: Start Collecting a "Second Salary" with These Powerful Income Generators
The Senate is currently in a two-week recess that doesn't end until April 21. That leaves Congress just one week to come to an agreement on how to fund the government. And so far, the House and the Senate don't appear to be on the same page.
On March 30, when Paul Ryan told CBS there won't be a government shutdown, he said that's because the spending bill wouldn't involve any controversial measures, like President Trump's proposed border wall or a proposal to defund Planned Parenthood.
But Senate Majority Leader Mitch McConnell sang a different tune just a few days later during an appearance on FOX News on April 2. When asked about the controversial items that could derail a spending bill, he said they're open to debate.
"We're going to negotiate all of those items in the context of this funding bill."
And those controversial measures are an even bigger deal because Republicans are currently very divided.
Just two weeks ago, Congress attempted to repeal and replace Obamacare, a promise congressional Republicans had been making for seven years. They couldn't get it done.
Despite having a majority in both chambers of Congress, Republicans couldn't even get the bill out of the House of Representatives, let alone get the Senate to agree. A faction of House Republicans want more extreme measures taken to scale down the size of the government, while a faction of more moderate members fear their chances of re-election if they take such a hard line.
That does not bode well for a spending bill, because the same divisions could undermine an agreement there, too, especially as more controversial topics get added to the debate.
But the biggest threat to a government shutdown is the possibility of Congress taking on the debt ceiling...
In fact, President Trump's proposed budget has already been met with harsh criticism from Senate Republicans.
"It's dead on arrival. It's not going to happen," Senator Lindsey Graham told NBC on Feb. 28. "It would be a disaster."
While Congress doesn't have to pass President Trump's proposed budget, it's further evidence of the lack of unity among Republicans on government spending. And lacking President Trump's support won't make a deal any easier.
But the biggest threat to a government shutdown is the possibility of Congress taking on the debt ceiling...
The Government Hit the Debt Ceiling Again
The federal government hit the debt ceiling on March 16. That means the federal government can't borrow more money to pay its bills unless Congress lifts the borrowing limit.
Treasury Secretary Steven Mnuchin is already using "extraordinary measures" to keep the government functioning, but these extraordinary measures will run out by October.
Trending: Why One of Trump's Boldest Economic Promises Will Be Delayed Till 2018
Mnuchin has already asked Congress to raise the borrowing limit, and so far they have failed to act. But it's possible the debt limit will get tied into the upcoming spending bill, that way Congress can fund the government and raise the debt ceiling in one vote.
But that debt ceiling can also be used as a bargaining chip in negotiations over the upcoming spending bill, as it was in the 2011, 2013, and 2015 crises. In all of those instances, congressional Republicans vehemently opposed lifting the debt limit.
That's a big problem, because Congress' failure to raise the debt ceiling led Standard & Poor's to downgrade U.S. debt in 2011, led to a government shutdown in 2013, and nearly caused another shutdown in 2015, before the most recent agreement was made.
In fact, the fight over previous government spending deals saw the stock market tumble. In 2011, 2013, and 2015, the Dow fell by as much as 10% during the lead up to a new spending agreement.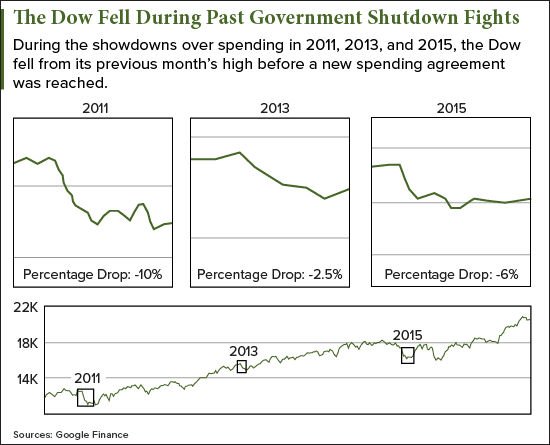 And a government shutdown could lead to even bigger drops in the stock market this year as the Trump rally has sent stocks to record-breaking heights. On top of that, it could torpedo investor optimism about President Trump's economic agenda, which included big spending projects on infrastructure.
But our readers don't have to worry because we have a way to profit from a government shutdown standoff that brought over 50% gains during earlier fiscal crises. Here's how to protect your money and bank double-digit profits during a government shutdown...
How to Profit During a 2017 Government Shutdown