(Kitco News) – World stock markets were again narrowly mixed in more quiet trading overnight. U.S. stock indexes are pointed toward slightly lower openings when the New York day session begins.
Gold prices are higher in early morning dealings, supported by some geopolitical risks and by a bullish near-term technical posture. The U.S.-North Korea tensions and upcoming French presidential elections are creating some anxiety in the world marketplace.
Traders and investors are buzzing about comments made by Fed Chair Janet Yellen late Monday afternoon. She said the Federal Reserve has stopped using extraordinary measures to stimulate the U.S. economy and is now "allowing it to kind of coast and remain on an even keel." She also said the Fed is on target to see a 3% Fed funds interest rate in two years, from its present rate of 0.75% to 1.0%. While Yellen's remarks seemed a bit hawkish, the marketplace already reckons the Fed is and will be on a tighter monetary policy track.
In overnight news, the closely watched German ZEW economic expectations index came in at 19.5 in April versus 12.8 in March. A reading of 14.0 was expected for April.
Euro zone industrial output came in at down 0.3% in February from January and up 1.2%, year-on-year. Those numbers were less than market expectations.
The key outside markets on Tuesday morning see the U.S. dollar index weaker on a downside correction after hitting a nearly four-week high Monday. The greenback bulls still have the overall near-term technical advantage.
Meantime, Nymex crude oil prices are slightly lower on a mild pullback from recent good gains. The oil bulls have the overall near-term technical advantage.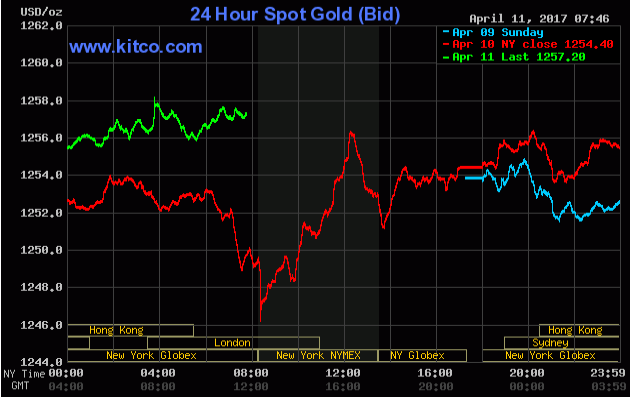 U.S. economic data due for release Tuesday is again light and includes the weekly Goldman Sachs and Johnson Redbook retail sales reports, and the NFIB small business optimism report.
By Jim Wyckoff, contributing to Kitco News; jwyckoff@kitco.com
Follow Jim Wyckoff @jimwyckoff for breaking news.