The legal marijuana industry has expanded to 28 states and the District of Columbia, and there is one clear winner: U.S. workers.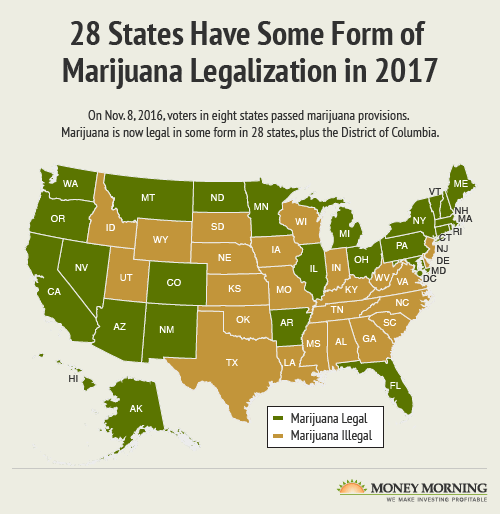 In Oregon alone, the positive economic impact is especially apparent.
According to the "Cannabis Employment Estimates" from Whitney Economics, the average wage of cannabis workers (who directly touch the plant) is $12.13 an hour as of Feb. 27. In Oregon, the minimum wage is $9.75, which means cannabis workers are making 24% more than the state's minimum wage.
And with an estimated 12,500 cannabis jobs created, that means the total annual wages associated with these jobs is at least $315 million.
However, these numbers could be too conservative…
The Legal Marijuana Industry Is a Massive Job Creator
In the "Cannabis Employment Estimates" report, Whitney Economics notes the estimates omit jobs related to the marijuana industry, like security and insurance, to name a few.
That means a number of high-paying jobs were not included in that previous $315 million figure…
And a closer look at the Oregon Cannabis Association's member list shows you how many jobs have actually been created by the marijuana industry.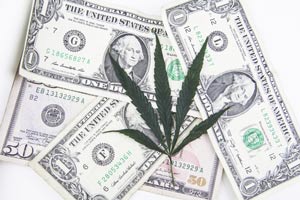 One member is CannaGuard, a security company based in Portland that designs and installs custom security systems for the marijuana industry. It helps ensure all federal, state, and local laws and regulations are followed in dispensary, grow, and retail facilities.
The company also helps marijuana business owners watch employees handle cash and products in real time.
But because the employees of CannaGuard don't work directly with the plant, they are not included in previous marijuana industry career reports.
Another member in the association, Oregon Cannabis Insurance, provides insurance for business owners that helps cover their unique needs, including:
Inventory insurance for coverage of products in case of fire or theft
Product liability insurance for protection from lawsuits
Property insurance to restore inventory, furniture, fixtures, and equipment if needed
And as more states legalize marijuana, job opportunities and revenue growth for marijuana industry employees and businesses will keep climbing.
However, some savvy investors are already plotting their course to a seven-figure weed windfall with the top pot stocks from every ecosystem – growers, edibles, dispensaries, and more.
That's why Money Morning Director of Technology & Venture Capital Research Michael A. Robinson has created the "bible of weed investing" for Money Morning readers. Here's more on how retail investors are cashing in on the $6.7 billion North American industry…
How to Play the $6.7 Billion Marijuana Industry