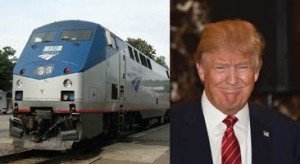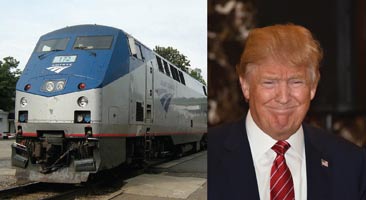 President Trump's latest budget proposal would slash 13%, or $2.4 billion, from the Transportation Department and terminate federal funding for Amtrak, the train service that services nearly 31.3 million customers per year.
Specifically, the cuts target Amtrak's long-distance services, like its California Zephyr line. These services "long have been inefficient and incur the vast majority of Amtrak's operating losses," according to the budget proposal document.
Like most federally funded "businesses," Amtrak carries a hefty operating loss each year. In 2016 alone, for example, the company reported an adjusted operating loss of over $227 million.  Over the past 10 years, Amtrak's lost a staggering $5 billion.
The mainstream media has been quick to declare the president's proposal as a disaster...
The New York Times called the budget cut a setup for "the hair-pulling transit apocalypse" on April 11.
"These cuts are unnecessary and shortsighted," said The New Yorker on March 16.
However, we're seeing another side to the budget proposal.
This move to cut spending for Amtrak may actually save America's commuter rail system.
Here's how...
Profits Work for a Reason
"The first law of capitalism is that profits exist for a reason - because customers are buying what's on offer," Money Morning Chief Investment Strategist Keith Fitz-Gerald said on April 11. Fitz-Gerald's long been a staunch opponent of government involvement in business.
"This nation desperately needs high-speed rail, not more tradition unimpeded by progress."
Only Amtrak customers haven't been buying for a long, long time. In fact, when Richard Nixon's administration consolidated various passenger train operators into a single national rail service in 1970, it was an attempt to adapt to falling ridership and to sustain passenger rail travel.
In other words, Amtrak was set up as a for-profit company receiving government subsidies at a time when profits were already in question.
Noted Fitz-Gerald, "I don't know if customers were not riding because they didn't want to or because the service was and is so far below global peers in Europe and in Asia. Either way, this is nothing new."
According to a 2015 profile of Amtrak in The National Journal, "the tension between Amtrak's for-profit mandate and money-losing reality has always dogged it. In 1997, Congress mandated that Amtrak become self-sufficient by 2002 or get liquidated. It didn't, and it wasn't."
To this day, Amtrak has never turned a profit.
What's more, the company "depends on the largesse of the taxpayer," said Fitz-Gerald.
"We Don't Need Jurassic Park in Infrastructure"
Amtrak's system is outdated, inefficient, and unsafe.
There have been over 2,000 accidents since 2000 - resulting in at least 224 deaths and 2,228 injuries, according to RT America.
Must Read: The Secret That Can Turn $2,500 into $1 Million or More
Just last month, an Amtrak train derailed at New York City's Penn Station. The derailment delayed over 300,000 passengers, and eight of the 21 tracks under Penn Station had to be shut down for almost two days.
Not only were the interruptions inconvenient, but they were also costly...
In fact, the Partnership for New York City estimates that every hour train commuters from New Jersey and Long Island are delayed costs Manhattan employers alone over $14.5 million.
According to Keith, it's time for America to step up and do something about this crumbling infrastructure. "This nation desperately needs high-speed rail, not more tradition unimpeded by progress."
Fitz-Gerald says trying to protect Amtrak from the inevitable is a lot like trying to protect the dinosaurs from going extinct. "We simply don't need Jurassic Park-like infrastructure," he said.
Indeed, there are much better - and more profitable - opportunities here to consider...
Amtrak's Trash Could Be an Investor's Treasure
Trump's move to defund Amtrak will force the company to sink or swim.
"It's about time Amtrak is left to its own devices. Every government that has ever tried to protect the inevitable in any industry has failed. Solar energy... busted. The EU carbon market... busted. Federal biofuels... busted."
Fitz-Gerald went on to explain "that's because every government backed industry has an incentive to act in ways that run counter to the public's industry. There's no profit... just entrenchment. So you have no reason to change behavior or to reallocate resources from the unworkable to higher, better uses. Private industry, on the other hand, rewards value, quality, and performance - and losses are often the point at which they learn."
"Whenever you have a situation like this," said Fitz-Gerald, "smaller, more profitable, nimble, more aggressive companies fill the gap."
In fact, the competition has already started...
Tesla Inc. (Nasdaq: TSLA) CEO Elon Musk has proposed and begun testing for a "Hyperloop" that will shuttle people between Los Angeles and San Francisco in only 30 minutes.
Fitz-Gerald applauds the move, observing that Musk has essentially thrown down the gauntlet, saying to the government that "if you can't or won't do this, I will."
The Bottom Line: Trump's decision to drastically cut back spending for Amtrak may actually do the entire rail transportation system a favor. It could allow Amtrak to fall on its face while making way for a reformation by innovative, private companies.
"Change is scary for a lot of people, but most of all for government regulators who don't know any other way but to spend other people's money with near zero accountability," said Fitz-Gerald. "Inevitably, though, change is a sign of the times - there's no putting the genie back in the bottle when it comes to innovation, period."
Editor's Note: "Must-have" companies backed by Unstoppable Trends are a cornerstone of Keith's wealth-building strategy. But there's another type of investment he wants Money Morning Members to know about. It's one of his favorites, a kind of "desert island fund" he'd buy if he had to park his money in one place, "retire" from civilization for 20 years, and come back to a pile of money. Click here to learn more...
Follow Money Morning on Twitter @moneymorning, Facebook, and LinkedIn.
[mmpazkzone name="end-story-hostage" network="9794" site="307044" id="138536" type="4"]