Readers of Money Morning who acted on the Apple supplier stocks recommendations I made just four months ago have made as much as 55%.
On Dec. 7, I shared seven Apple supplier stocks I thought would outperform broader markets. Each of these stocks had a high exposure to Apple – that is, a large percentage of their business comes from supplying Apple.
My expectation was that as the hype over the upcoming iPhone 8 began to build, forecasts of blockbuster iPhone sales would follow. Because this year is the 10th anniversary of the iPhone, the new models are expected to have at least one gotta-have-it feature that will spur a tremendous wave of upgrades.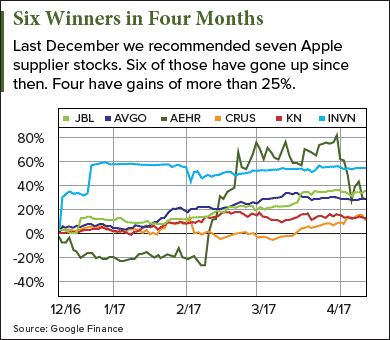 The anticipation of a big sales boost from the iPhone 8 has helped push Apple stock to new all-time highs in recent weeks.
But I knew that as Wall Street came to realize how those higher sales also would boost the biggest Apple suppliers, their stock prices would rise as well.
The biggest winner was InvenSense Inc. (NYSE: INVN), which is up a little more than 55% since I shared those suppliers with readers on Dec. 7.
INVN stock jumped just days after that article appeared on rumors that Japanese electronics company TDK Corp. was in talks to buy InvenSense.
The rumors proved to be true. TDK announced Dec. 21 its intentions to buy InvenSense for $13 a share, or $1.3 billion.
There was some luck involved in that pick – a major acquisition deal is a quick road to profits – but of the seven Apple Inc. (Nasdaq: AAPL) suppliers I recommended in December, six are in positive territory. Four (including INVN) are up more than 25%.
New Report: Grow Your Wealth Effortlessly with These Five High-Yield Stocks
Today I've got two more Apple supplier stock picks for you. First let's take a look at each of December's other winners.
How Our Apple Supplier Stock Picks Have Performed
Now here are the two Apple supplier stocks I promised you – one for investors who want a "safe" bet and a riskier one for investors looking for maximum gains…
Two Apple Supplier Stocks to Buy Now