Global growth sentiment sure seems bullish at the moment – notwithstanding a couple of "permanently debated," eternally worrisome factors media pundits love fret about, like China's juggernaut consumer economy and the U.S. employment picture.
But this is the age of "fake news," of course. It can be tough for regular investors to discern helpful fact from dangerous fiction where the global economy is concerned, especially when we know that certain players (the world's central banks, for instance) nearly always play it fast and loose where truth is concerned.
But I'm going ​to prove that this growth is the real deal.
There's one number investors can always use to gauge the overall health of the world economy… in a second. It's completely devoid of the speculation, padded numbers, and "hopium" that can drastically impact other indicators, so you know instantly you can trust it.
It's exceedingly simple: If this number's going up, you can safely go "long" on growth.
And I recommend doing just that with the undervalued shares I'm about to show you…
From the Sea, Global Growth
One of the best measures of the health of global trade is the Baltic Dry Index (IND: BDIY). It tracks the price of shipping major raw materials like wheat, iron ore, cement, and coal.
The BDI was created by the London Baltic Exchange, which calculates the index by surveying a panel of shipbrokers. In fact, the BDI is determined by combining three sub-indices, each of which represents carriers of a particular category: Capesize, Panamax, and Supramax. About 50 different shipping routes are taken into account.
It's especially relevant because this segment of economic activity, the shipping of raw goods, is often early in the production chain and is a significant component of input costs.
That makes the BDI a widely regarded leading indicator of commercial activity.
When the BDI rises strongly, it suggests a tight market, where demand is robust while supply is limited. This confluence of factors often leads to inflationary pressures.
And lately, the BDI has been providing signals that the global economy is "waking up."
I'll show you why in a minute, once we take a closer look at this remarkably useful index.
A New Bull Market Is Shaping Up
The Baltic Dry Index has been published since 1985.
For the first 17 years, the BDI "floated around," bopping up and down between about 500 and 2,000. Then the commodities boom arrived, along with massive raw materials consumption from China, which in turn produced and shipped every product imaginable overseas.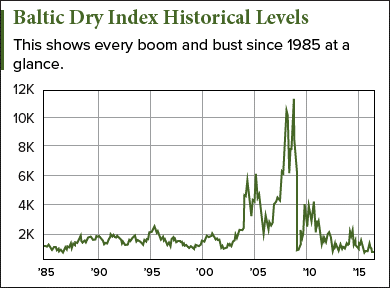 That expansion took the BDI from roughly 1,000 to its peak on May 20, 2008, at 11,793.
Within just six months, the index had crashed, courtesy of the 2008 Financial Crisis.
Then it got worse.
I remember a mutual fund's chief investment officer telling me a remarkable anecdote in early 2009…
Join the conversation. Click here to jump to comments…
About the Author
Peter Krauth is the Resource Specialist for Money Map Press and has contributed some of the most popular and highly regarded investing articles on Money Morning. Peter is headquartered in resource-rich Canada, but he travels around the world to dig up the very best profit opportunity, whether it's in gold, silver, oil, coal, or even potash.