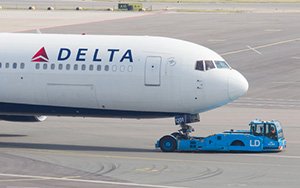 The top stocks to watch today (Wednesday) are Bombardier Inc. (OTCMKTS: BDRBF), Delta Air Lines Inc. (NYSE: DAL), and Neurocrine Biosciences Inc. (Nasdaq: NBIX).
According to the World Trade Organization, world trade is on track to increase 2.4% in 2017 despite the "deep uncertainty" in geopolitical relations.
Those same geopolitical tensions are driving up the price of oil. It is currently up 0.45% today to $53.75 a barrel and on track to close higher for the fifth trading session in a row.
Now that we know what's moving markets, here are the three top stocks to watch today...
Top Stocks to Watch Today: Bombardier Inc. (OTCMKTS: BDRBF)
Bombardier stock is up almost 2.2% in early morning trading on news of merger talks with Siemens AG (OTCMKTS ADR: SIEGY).
The companies are in the early stages of talks to merge their train operations. As of right now, there are no details about a proposed agreement.
The merger is likely to face tough antitrust scrutiny in Europe since both are dominate players in the train industry. Bombardier is the largest supplier of passenger trains in the developed world. Siemens, on the other hand, specializes in high-speed trains and is the third-largest supplier in the world.
Don't Miss: Trump's Secret Weapon Set to Foil China's Master Plan.
BDRBF stock is currently trading at $1.77 for a gain of 9.9% so far this year.
Top Stocks to Watch Today: Delta Air Lines Inc. (NYSE: DAL)
Delta stock is up 2.9% in early morning trading after announcing better than expected earnings.
March was the first time since November 2015 that passenger unit revenue was positive. Passenger unit revenue is a closely watched revenue measure for airlines, and the metric is expected to continue to rise due to healthy demand.
Delta's earnings per share (EPS) were $0.82 for the quarter, down 36.3% from the same quarter a year ago. Adjusted EPS was $0.77, with analysts expecting $0.75.
The company is keeping its capacity growth to 1% in order to support the unit revenue momentum.
DAL stock is trading at $45.29 for a loss of 7.9% year to date.
Top Stocks to Watch Today: Neurocrine Biosciences Inc. (Nasdaq: NBIX)
Neurocrine Biosciences stock is up 22.6% in early morning trading after the FDA granted approval for its new treatment.
The FDA approved Ingrezza yesterday (Tuesday) for treating tardive dyskinesia. This is the first drug approved to treat this disorder.
Tardive dyskinesia is a neurological syndrome that causes uncontrollable body movements. It is caused by prescription medications used for psychiatric and gastrointestinal disorders. The symptoms can appear while taking the medication or several years after stopping treatment.
Urgent: 7,524 millionaires are legally manipulating penny stocks, driving up the prices. By getting in behind these trades, it's like you're making their shares your shares for huge gain potential in a matter of weeks. Read more...
Follow Money Morning on Twitter @moneymorning, Facebook, and LinkedIn.