(Kitco News) – World stock markets were mixed overnight, with European shares seeing corrective bounces from selling pressure seen earlier this week. Asian stock markets were mostly weaker Wednesday. U.S. stock indexes are pointed toward narrowly mixed openings when the U.S. day session begins.
Geopolitical risks are still keeping traders and investors worldwide tentative. The U.S. Navy has warships headed for waters off the Korean peninsula. North Korea has vowed to retaliate. President Trump has just tweeted: "North Korea is looking for trouble." Meantime, U.S. and Russian government officials are meeting Wednesday to discuss the Syrian government. The U.S. wants Syrian leader Assad out, while the Russians support him.
Gold prices are higher on more safe-haven demand after sharp gains on Tuesday that drove prices to a five-month high.
The key outside markets on Wednesday morning see the U.S. dollar index trading near steady. The greenback bulls have the overall near-term technical advantage. Meantime, Nymex crude oil prices are firmer and near a four-week high. The oil bulls have the overall near-term technical advantage.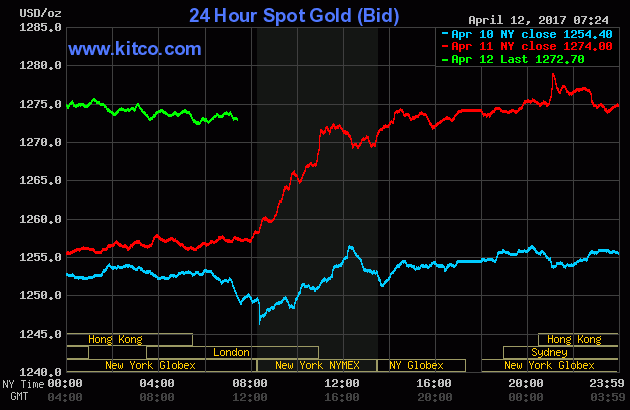 U.S. economic data due for release Wednesday includes the weekly MBA mortgage applications survey, import and export prices, the monthly Treasury budget statement and the weekly DOE liquid energy stocks report.
By Jim Wyckoff, contributing to Kitco News; jwyckoff@kitco.com
Follow Jim Wyckoff @jimwyckoff for beaking news