(Kitco News) – European stock markets were mostly weaker overnight. Asian stocks were mostly firmer, led by China, which on Thursday injected liquidity into its financial system for the first time in over two weeks. U.S. stock indexes are pointed toward weaker openings when the New York day session begins.Gold prices are holding solid gains and are at a five-month high on safe-haven demand.
Heightened geopolitical risks are still on the front burner of the world marketplace. A meeting between the U.S. secretary of state and Russia's foreign minister ended Wednesday without agreement and likely pushed the two sides deeper into divisiveness. Secretary of State Rex Tillerson said Russia and the U.S. just don't trust each other. And during a press conference on Wednesday afternoon Trump said U.S. relations with Russia are "bad." Trump at the same time praised Chinese leader Xi Jinpin. That move could have been calculated by Trump, as he appeared to suggest a warming relationship with China and its third-strongest military in the world, and one that has the most influence over North Korea. The U.S. Navy has warships headed for waters off the Korean peninsula. Trump also said he is not going to name China as a currency manipulator-likely in exchange for China doing some arm-twisting on North Korea.
Late Wednesday afternoon the Wall Street Journal released an interview with President Trump, in which he said the thinks the value of the U.S. dollar is too strong and that U.S. interest rates should remain low. This news caught the markets off guard. The U.S. dollar index sunk, gold and U.S. Treasuries rallied and the U.S. stock market sold off. Trump appears to now be siding with Fed Chair Janet Yellen, after he ostensibly said he would like to fire her when he was campaigning last fall.
The key outside markets on Thursday morning see the U.S. dollar index trading solidly lower following Trump's negative remarks on the greenback.The greenback bulls still have the slight overall near-term technical advantage, but are fading. Meantime, Nymex crude oil prices are slightly lower as data from the U.S. shows oil production continues to rise. The crude oil bulls still have the overall near-term technical advantage.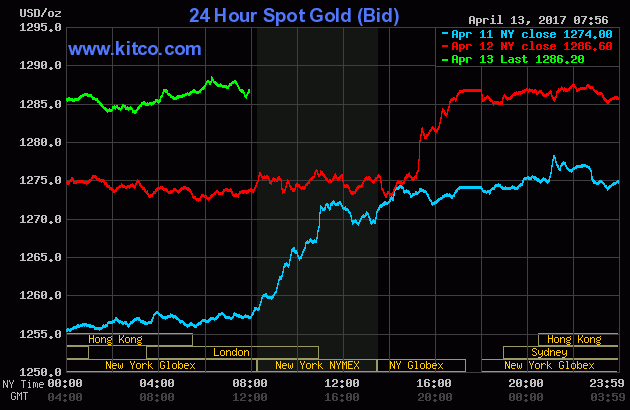 U.S. economic data due for release Thursday includes the weekly jobless claims report, the producer price index, and the University of Michigan consumer sentiment survey.
By Jim Wyckoff, contributing to Kitco News; jwyckoff@kitco.com
Follow Jim Wyckoff @jimwyckoff for beaking news