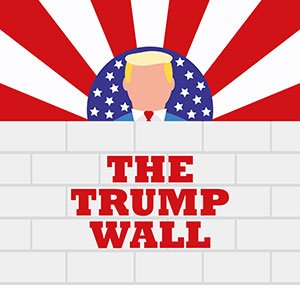 President Donald Trump is pushing forward with his plans to build a wall along the U.S.-Mexico border. And because this is such a massive undertaking, the profit opportunities will be undeniable.
On March 17, the plans for President Trump's wall started to take shape.
That's when the Trump administration released guidelines for contractors to build the border wall. And the cost is massive…
According to internal reports from the U.S. Department of Homeland Security that were seen by Reuters on Feb. 9, the "Trump wall" could cost as much as $21.6 billion. And businesses from steel companies to security firms could each see a piece of that huge contract.
Video
President Trump & the Wall
That's why today, we want to provide Money Morning readers with five stocks to know about now if President Trump's border wall is built.
We'll get to those stocks in just a bit.
But first, here are the most important details from President Trump's border wall plans that cannot go unmentioned….
Here's What President Trump's Wall Will Look Like
In the outline, there are a total of 13 threshold and objective requirements for the wall.
A major focus for contractors will be the height of the wall. The outline says the border project should be physically imposing in height, and it would ideally be a 30-foot-high wall. However, designs that are at least 18 feet in height are considered acceptable.
The outline says the wall should be impossible to climb over without assistance, like a ladder.
Don't Miss: Trump's Secret Weapon Set to Foil China's Master Plan
The second major focus for contractors will be durability. The outline says the wall should deter a breach larger than 12 inches in diameter for 30 minutes. It will need to be durable enough to withstand sledgehammers, pick axes, chisels, and battery-operated cutting tools for that time.
Finally, contractors have to prevent easy access through digging. President Trump's wall should prevent tunneling or digging for a minimum of six feet "below the lowest adjacent grade."
According to Bloomberg, finalists for the giant construction project will be selected at some point in April. But before that happens, we want to make sure you know now about five stocks that could skyrocket if construction begins.
In fact, one of these stocks is projected to climb nearly 100% in the next year…
5 Stocks to Watch Now Before the "Trump Wall" Is Built