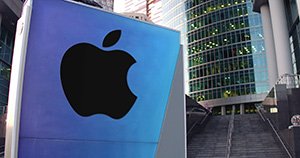 Big Pharma has a new contender to worry about...
Tech giant Apple Inc. (Nasdaq: AAPL) has hired a small team of biomedical science engineers to develop revolutionary blood sugar sensors, according to an April 13 report by CNBC.
In fact, the team has been quietly developing the devices since before the death of former Apple CEO Steve Jobs.
If successful, the advance could help millions of diabetes patients and turn the Apple Watch - which the sensors are rumored to pair with - from a "nice to have" into a "must have."
And now, at a time when Big Pharma has been put under the spotlight for exuberant drug costs, unfair pricing practices, and outrageous CEO behavior, Apple may be in the perfect position to snap up market share...
The "Glucose Team" Is Taking Over
Apple's efforts to jump into the health and science industry have been going on for at least five years. The initiative was set forth by then CEO Steve Jobs, who "envisioned wearable devices, like smartwatches, being used to monitor important vitals, such as oxygen levels, heart rate, and blood glucose," wrote CNBC.
Under Jobs' watch, the company snatched up top talent from about a dozen biomedical research firms and placed them on "teams" - such as the "glucose team" or the Apple Watch team - with the intention of merging the two teams' ideas.
Accurately detecting glucose levels is no easy feat. In fact, developing the technology is such a challenge that one of the top experts in the industry, John L. Smith, a recognized expert and pioneer in the field of noninvasive glucose monitoring, described it as "the most difficult challenge I have ever encountered" to CNBC.
Sign up for SMS so you never miss special events, exclusive offers, and weekly bonus trades.
Must Read:
Top 10 2017 IPOs to Watch
To succeed would cost a company "several hundred millions or even a billion dollars," DexCom Executive Chairman Terrance Gregg told Reuters in 2014, when the speculation started swirling.
But the challenge has not stopped Apple from stepping up to the plate.
And if the sensors are included in a future edition of the Apple Watch - as suspected - Apple may have a significant advantage over traditional pharma companies.
You see, Big Pharma's glucose monitoring systems cost anywhere from $400 to $800 for standard models, while the latest Apple watch retails for $369.
Even more enticing, the Apple Watch includes other consumer health-related features, like a built-in heart rate sensor, waterproof capability, and deep-breathing exercises.
What All This Means for Investors
The line between pharmaceuticals and technology is blurring, and now is the best time to invest in "bioelectronics" - an emerging industry worth over $25 billion.
In fact, Global Market Insights reported this industry is growing at more than 10% a year, over 10 times faster than the entire U.S. economy.
"The greatest investments of this time are all related to technology," said Money Morning Capital Wave Strategist Shah Gilani. "Tech is taking over. Big data is consuming the market."
In fact, Gilani predicts that software and tech companies like Apple and Facebook Inc. (Nasdaq: FB) will completely take over various industries in the future - especially healthcare.
"I think this year is going to be great for Apple," said Gilani on "Varney & Co." April 13. "There are going to be some breakthroughs there."
Additionally, "Facebook has all of this great data to work with," said Gilani. "If they're smart, they will merge with the healthcare industry in the near future. Think about it - people trust Facebook. People give all of their information to Facebook. Why not use all that Facebook data for your well-being?"
And Facebook may already be creeping into the sector...
According to CNBC, Apple's "glucose team" was previously led by Michael D. Hillman, who left Apple in late 2015.
Curiously enough, Hillman joined Facebook's Oculus as head of hardware last month.
Editor's Note: One of the fastest-growing tech investment segments is... cannabis? Yes, you read that right. A high-tech approach to cultivating this ancient plant - that's already legal to use in more than half of 50 states - is generating a multibillion-dollar investment opportunity for early investors. Click here to find out more, including how you can get your copy of Michael Robinson's Roadmap to Marijuana Millions. Packed with more than 30 great companies to buy, it's fast becoming "the weed investor's bible." Check it out...
Follow Money Morning on Twitter @moneymorning, Facebook, and LinkedIn.