Despite staggering increases in drug prices, Americans still aren't living as long as those in other countries. And the worst part is they're paying more, too...
One out of every four Americans reported that the cost of healthcare is their primary concern right now, according to a January 2017 Monmouth University poll. In fact, anxiety about paying medical bills now outpaces job and unemployment concerns, as well as worries about paying everyday household bills.
And it's no wonder: In August, prices for medicine, doctor's appointments, and health insurance rose at rates not seen since 1984.
Drug costs, in particular, are growing by double and triple digits each year. Back in October 2016, The Fiscal Times reported that specialty drug prices grew 18.9% and are projected to increase another 18.7% this year. Additionally, it reported that generic drug prices are expected to increase another 11% this year after already going up 11.3% in 2016.
Americans Spend More and Live Less
Using data from 2013, the Organization for Economic Co-operation and Development (OECD) came out with a health statistics report in 2015 that noted the per capita spending on private healthcare in the United States is $4,516 per year. That's five times more than the median across the other countries that make up the organization: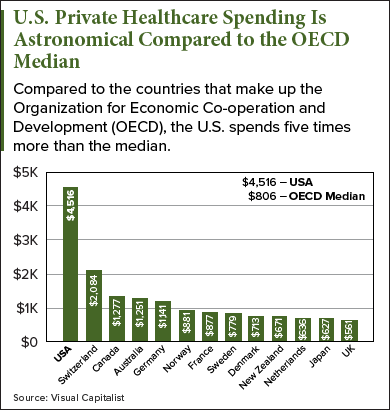 In the case of private healthcare spending, higher per capita spending in the United States makes sense. After all, the very nature of the U.S. healthcare system is based on private healthcare spending, as opposed to the public healthcare systems in the other OECD countries.
For example, in the United States, there are insurance companies like Aetna or Cigna that offer health insurance plans to individuals. The plans can either be obtained through an employer or by an individual.
But in the other countries that make up the OECD like, say, Canada, healthcare is a group of socialized health insurance plans that provide coverage to all citizens. It is publicly funded and administered within guidelines set by government. With a few exceptions, all individuals qualify for coverage, regardless of medical history and income.
Of course, the United States has public healthcare spending as well. For example, Uncle Sam provides those over the age of 65 with Medicare, and it provides Medicaid to low-income individuals. And with the introduction of Obamacare, we saw steps toward a universal healthcare system more similar to Canada's.
But here's the catch...
While it makes sense the United States pays more per capita in the case of private healthcare spending because of how healthcare is set up in this country, it does not make sense the U.S. would pay more per capita for public healthcare spending, for the same reason.
And yet, it does: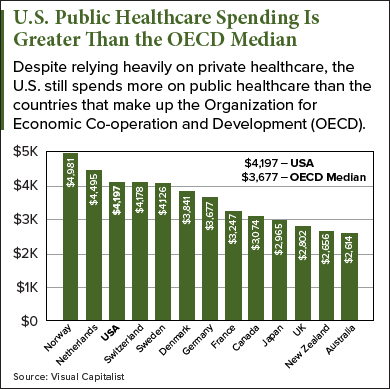 Combined, public and private healthcare amounted to 17.5% of the U.S. GDP in 2015 -- and that was before the double-digit hikes in premiums most states have incurred under Obamacare.
BRILLIANT: Average Americans Are Becoming Marijuana Millionaires
And even with the U.S. spending more of its GDP on healthcare than any other country, Americans' life expectancies are lower, on average: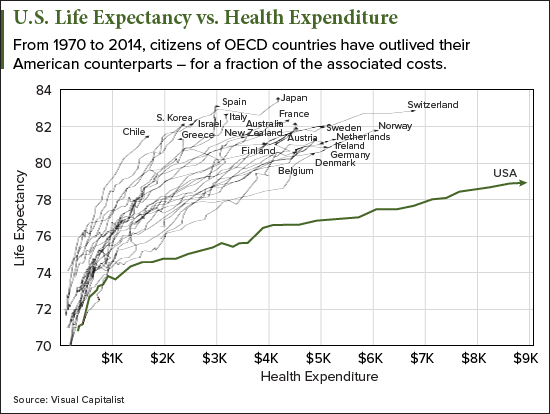 Donald Trump's $18.7 Million "Secret Investment": President Trump is just one of many billionaires taking advantage of a Great Depression-era "program" to build massive fortunes. A small group of regular Americans have begun to use them as well. And they're making millions. Could you be next? Read more...
Follow Money Morning on Twitter @moneymorning, Facebook, and LinkedIn.
Related Articles: