"...but Trump hates China?!"
That was my friend Jack, who couldn't fathom that last week's historic meeting between Chinese President Xi Jinping and U.S. President Donald J. Trump didn't end in a diplomatic donnybrook.
Like many investors who expected the gloves to come off, he's wondering what gives and what this means for his money.
I've got a few answers, and I think you're going to be very excited by what I have to say about where to position your money next, especially if you "missed" Amazon.
Here's what you need to know.
I Predicted Trump Would Play It This Way
President Trump was emphatic on the campaign trail when it came to China.
He would...
                ... label the country a currency manipulator on "Day One" in office
                ...end unfair trade that hurts American workers, and
                ...clamp down on Chinese espionage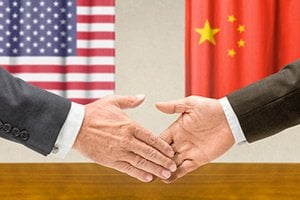 Naturally, the mainstream media loved it.
Conflict boosts ratings, and by all accounts they expected last week's two-day summit at Mar-a-Lago to be filled with testy soundbites and lots of earnest hand wringing.
Instead what they got was a friendly meeting, lots of smiles, and a 100-day plan to work on key initiatives that draw the two nations closer.
Open mouth, insert foot.
As I've noted repeatedly over the past 12 months, the biting rhetoric on both sides was for domestic consumption. I counseled that, contrary to what you were hearing, it would get dialed back.
Think about this for a moment.
President Trump needed to appear tough on the campaign trail and upon entering office. President Xi needed to appear to have Chinese interests and the Chinese people, in particular, at the top of his list. So both talked tough to their respective audiences.
Now, they need to work together for the simple reason that the United States needs China just as much as China needs the United States.
Busting the China Myth
If this makes you uncomfortable, I get it. This is a scary thought for a lot of people simply because China is an enigma. Very few Americans have travelled there despite the fact that the country "opened" more than 40 years ago.
That, in turn, means very few Americans understand who or, more precisely, what we're dealing with. Making matter worse, an entire generation has been raised to believe that China's the "enemy" when the average Chinese has no interest in playing that role.
The reality is that the average American family saves $1,000 a year or more buying Chinese goods while, at the same time, approximately 40% of the trade deficit President Trump rails on actually comes from American companies doing business there.
What's more, China is no longer a currency manipulator hell-bent on lowering the value of the yuan against the dollar - contrary to what a lot of people want to believe and what policy wonks trying to protect vested interests want to spoon-feed you.
In fact, China is actually spending huge amounts of foreign reserves to buy back the yuan and strengthen it. So much so that China now meets only one of three criteria established by the U.S. Treasury needed for a country to be officially labelled a currency manipulator. If you really want to take on currency manipulators, then you'll need to make tracks for Japan, Switzerland, Korea, Taiwan, and Germany - all of which do meet two of the three needed conditions. But that doesn't make for great headlines.
Today, China and the United States account for approximately 39% of the global economy, a figure that has swelled as we've integrated our economic development over time.
There is no exit for either nation.
Fearful investors tell me frequently that China could exercise the "nuclear option" and dump trillions in U.S. Treasuries on global markets. Whoever came up with that one clearly doesn't understand how real trading works.
There isn't another nation in the world that could absorb that kind of liquidity. China's currency is closely tied to the dollar, which means that dumping Treasuries would devastate China's economy.
If anything, China's going to buy more.
Of everything.
Join the conversation. Click here to jump to comments…
About the Author
Keith is a seasoned market analyst and professional trader with more than 37 years of global experience. He is one of very few experts to correctly see both the dot.bomb crisis and the ongoing financial crisis coming ahead of time - and one of even fewer to help millions of investors around the world successfully navigate them both. Forbes hailed him as a "Market Visionary." He is a regular on FOX Business News and Yahoo! Finance, and his observations have been featured in Bloomberg, The Wall Street Journal, WIRED, and MarketWatch. Keith previously led The Money Map Report, Money Map's flagship newsletter, as Chief Investment Strategist, from 20007 to 2020. Keith holds a BS in management and finance from Skidmore College and an MS in international finance (with a focus on Japanese business science) from Chaminade University. He regularly travels the world in search of investment opportunities others don't yet see or understand.