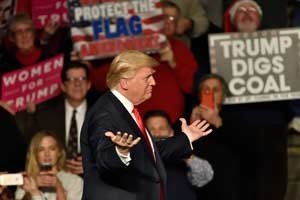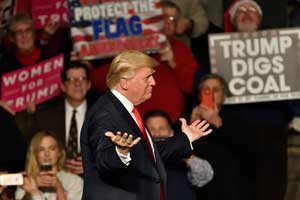 During the 2016 campaign, then candidate Trump promised "we're going to save the coal industry." And in late March, President Trump signed an executive order ending a coal mining regulation protecting nearby water sources.
But can Trump save the coal industry?
This simple answer is "no." And that means energy investors hoping to profit from a rejuvenated coal industry are going to be disappointed.
But there's a better option. In fact, we actually have one energy stock that capitalizes on the changing energy landscape and the shift away from coal. That means you can profit handsomely, too.
We'll show you exactly which stock to buy to bag over 60% gains from the big changes coming to the coal industry. And you don't have to just take our word for it - these six charts show you exactly why coal isn't coming back...
These 6 Charts Show Why Coal Is Dead and Where the Money Is Heading
The coal industry isn't coming back, and that's because natural gas is a better fuel, it's cheaper, and it's more abundant. Those who think President Trump can save coal without making natural gas more expensive are wrong.
U.S. coal production has been falling since 2008. Coal production is down over 33% since 2008. That's why President Trump promised to save the coal industry during the campaign.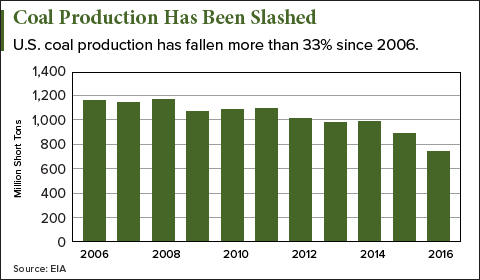 Nearly half the electricity generated in the United States in 2007 came from coal. By 2015, natural gas passed coal as the dominant source of energy for electric power. In 2015, 31% of electric power came from natural gas, and only just 30% came from coal.
That's because natural gas production soared in the 2000s.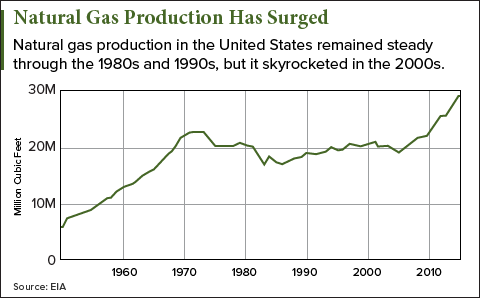 Natural gas production was fairly steady through the 1980s and 1990s, but it jumped in the last decade as new technologies made it easier to produce.
Hydraulic fracturing, more commonly known as fracking, made natural gas production cheaper and easier. And starting around 2008, fracking opened up the largest shale gas play in the United States, the Marcellus Formation. The chart below shows just how shale gas production exploded around that time.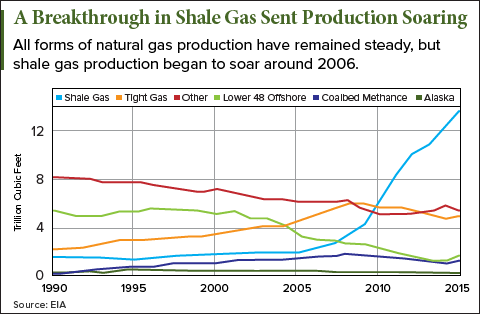 And that surge in shale gas production has kept natural gas prices low. That means power plants looking for a source of energy can get natural gas much more cheaply than before the shale boom.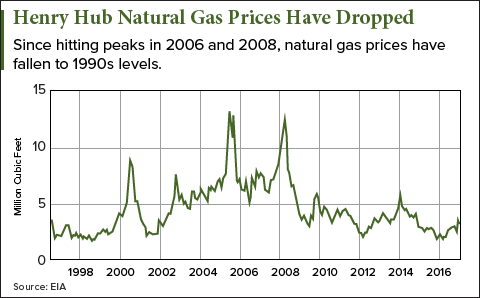 On top of that, natural gas is better for power-generating plants to use. Not only does natural gas produce about half the carbon output of coal, which helps plants meet emissions standards, but natural gas is easier to use.
Trending Now: Why 2017 Is the Year for Investing in Renewables
Coal has to be transported by train to the power plant, and then it has to be burned in massive furnaces. These furnaces have to be constantly cleaned and the plants have to find a way to dispose of the coal remnants, which is another expense.
Natural gas can be directed to a plant through pipelines.
That's why coal production continues to fall even though coal prices have collapsed since the natural gas shale boom.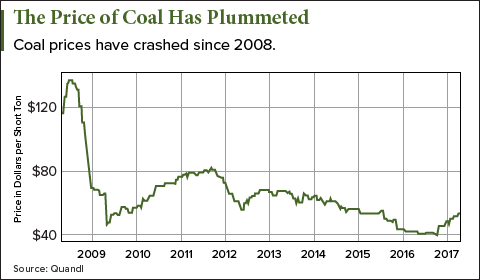 Even though coal prices are half of what they used to be, it's still not enough to compete with the abundant shale gas. Without natural gas prices rising substantially, coal will not reclaim its throne as the top source of power in the United States.
That's why the EIA projects both natural gas and renewable energy will continue to dominate coal, even as demand for energy rises.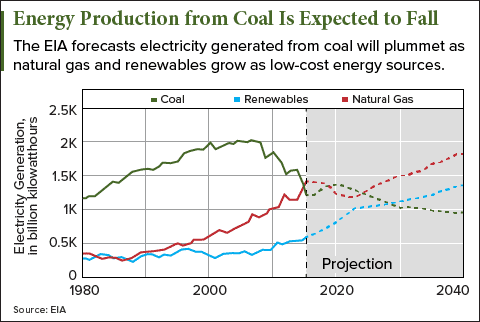 While these charts show bad news for the coal industry, they also show a tremendous opportunity for investors. Natural gas' supremacy is only just beginning, and we have a strategy to capitalize on this transition.
Here's our coal industry stock play that could bring you over 60% profits in 2017...
How to Make Over 60% Profits on the Fall of Coal