Thanks to recent breakthroughs in shale and natural gas, and the abundance of fossil and renewable fuels, it's likely the United States is now just five to 10 years from attaining "energy independence." Remarkable when you consider it's been a policy "Holy Grail" of every president since Nixon, and just 10 years ago we were importing 70% of our daily needs.
Now, this does not mean there will be no U.S. energy imports. This country will of course import energy when it's cost-efficient and profitable, but it will no longer do so to fill market demand.
We're on the brink of a completely new era, with huge implications for investors across the broad spectrum of energy segments.
But for everyone concerned, the new energy balance will be delicate. The "transition" to energy independence will be dicey to manage politically and administratively. There are no silver bullets or quick fixes.
To maximize upside, investors will have to be nimble and move into the investments I'm going to show you today and in the coming months.
Let me explain...
It's All About Energy "Balance"
As the United States progresses with improving energy production and exploration, markets will still require a number of different sources - an "energy balance" - that will continue to include more conventional energy sources along with the rise of renewables.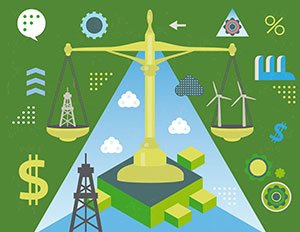 Pursuing a balance of sources requires us to optimize the usage of oil, natural gas, coal, nuclear, and renewables in a multi-sourced environment. The key is to provide as much interchangeable energy as possible. Naturally, this diversity improves our national security picture, because we don't have to be overly reliant on a single fuel or technology.
This strategy allows one source to compensate for others in a more efficient network. But for this to happen, there needs to be continued expansion in all of the major energy categories - and some serious attention given to the production and delivery of infrastructure among them.
Meanwhile, expanding the U.S. energy balance, as I have often said in Oil & Energy Investor, has never been a search for a "silver bullet" to wean us from dependence upon foreign crude oil (or domestic, for that matter).
"The United States, actually the whole world, is bound to move to a more sustainable energy balance."
Not only is this unrealistic, but it also cripples the American workforce and kills local economies from California through Texas to Pennsylvania, as well as damaging the national market as a whole.
This is not about replacing which energy source is dominant on a whim. Markets left to their own devices do a rather good job of making those decisions for us. In some places, efficiency becomes the driving force. In others, it is reliability. In others still, maintaining employment and income flow may take precedence, even if that means higher prices or environmental tradeoffs.
I am certainly not saying that one of these always needs to reign supreme. Instead, what is important is how the transition is managed...
How Trump Should Handle the U.S. Energy Transition
The mood in the "new" D.C. seems to support a return of a national energy policy dominated by fossil fuels and an increasing indifference to what the rest of the world may think.
Trump's campaign pledge to make the U.S. "energy independent" has largely been regarded as nothing more than a move to support more oil and natural gas drilling, as well as an increasing reliance on coal.
However, there's no escaping the fact that coal is permanently declining in importance. The new American energy market cannot sustain it.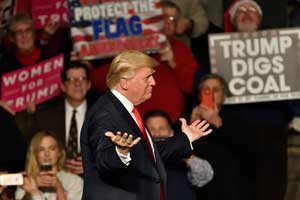 As I mentioned, to focus on any one at the expense of another would be a big mistake. A necessary cog in the energy balance and national energy self-sufficiency is renewables, specifically solar.
At the outset, nobody associated with the incoming White House has voiced any particular opposition to solar. After all, in many parts of the country, solar has made significant gains over the past several years and reached grid parity, that is, equal or lower power generation cost with more conventional sources of power generation, like coal and gas.
The problem comes from elsewhere.
[mmpazkzone name="end-story-hostage" network="9794" site="307044" id="138536" type="4"]
Some in Congress have long voiced disapproval about the subsidies that solar and other renewables have been provided.
But they're looking for subsidies in the wrong place. Solar power's recent move toward grid parity has actually taken place without subsidies.
What's more, the United States, actually the whole world, is bound to move to a more sustainable energy balance. Even individual companies and corporations are making the switch. It's what their customers are looking for.
In fact, it's what investors are looking for, too...
The Road to Self-Sufficiency Can Be Very Profitable
Energy abundance - from the multiple sources I mentioned - is unlocking staggering gains for investors.
But if you just "play the majors," you may find yourself with less than your fair share. With a few rare exceptions, the windfall profits in the months ahead will be reserved for a handful of small niche companies poised to become the biggest winners as energy truly goes global.
Now, Energy Advantage readers have already begun to profit from the best of those domestic companies leading the U.S. into this new energy age, including Valero Energy Corp. (NYSE: VLO), which is up almost 300% since I recommended it in 2011. It's an independent U.S. petroleum refiner and ethanol producer. The company's assets include crude oil and refined petroleum products pipeline and terminal systems in the U.S. Gulf Coast and Mid-Continent regions. And even better for investors, as I mentioned earlier, these refineries will use domestic or foreign oil, depending on which is cheaper. This translates into more profits for investors. Valero is simply one of the best picks out there.
Also, Woodward Inc. (Nasdaq: WWD) has been in the Energy Advantage portfolio since July 2015 and is up more than 44% since then. The company runs the gamut from power converters, actuators, valves, pumps, injectors, solenoids, ignition systems, governors, electronics and software, through power converters, and devices that measure, communicate, and protect electrical distribution systems for use in industrial gas turbines, including heavy-frame and aeroderivative turbines, reciprocating engines, electrical grids, wind turbines, and compressors.
This means that whenever a business, utility, or government agency decides to upgrade its electrical equipment in order to increase efficiency, Woodward is on the planning agenda. That makes the company of central interest whenever energy efficiency takes center stage.
And for some of the best, broadest exposure to the U.S. and worldwide boom in renewables, consider the iShares Global Clean Energy ETF (Nasdaq: ICLN), which invests in renewable power companies and utilities, as well as their suppliers and the whole renewables supply chain, all over the world. With holdings in solar, wind, and other renewables, this ETF is well poised to rise as renewable energy continues to develop. It also pays a nice yield of 3.59%.
I can't overemphasize the profit potential to be tapped in the ongoing "American Energy Revolution." It's likely we're just starting to scratch the surface. I'll be updating my Energy Advantage readers on these opportunities regularly.
To learn how to get all of Kent's Energy Advantage recommendations, including a play on the $7.2 trillion "superfuel" that's 1,693 times more powerful than gasoline, click here.  
Follow Kent on Facebook and Twitter.
About the Author
Dr. Kent Moors is an internationally recognized expert in oil and natural gas policy, risk assessment, and emerging market economic development. He serves as an advisor to many U.S. governors and foreign governments. Kent details his latest global travels in his free Oil & Energy Investor e-letter. He makes specific investment recommendations in his newsletter, the Energy Advantage. For more active investors, he issues shorter-term trades in his Energy Inner Circle.