After last week's strong performance, the price of silver in 2017 is now up 15.8%. That gives it a strong lead on gold prices, which are only up 12.2% so far this year.
While gold has just recently managed to break through resistance, silver prices have traded above such levels for three weeks now.
The white metal has been exhibiting mainly bullish technical behavior lately, and that's been confirmed by silver mining stocks to a lesser extent.
But recent technical action in the silver price has me concerned about what might lie ahead. In fact, if we consider seasonal action for the price of silver, we may be nearing a peak that could lead to a correction in the coming months.
Don't Miss: The Best Stocks to Buy for Mega-Profits in 2017
Of course, neither of these two factors alone will determine what the silver price does next. But they do signal caution for traders intending to go long or investors looking to initiate or add to silver positions.
Today, I'm going to dive into why it would be healthy for silver prices to pull back at this juncture. I'll even provide a price target for later this year.
First, here's a look at silver's exceptional performance last week...
Why Silver Prices Surged 3.7% Last Week
After closing at $17.96 on Friday, April 7, the metal opened lower on Monday, April 10, at $17.85. Though it rebounded throughout the day, the silver price still closed at $17.93 for a 0.2% loss.
But Tuesday was marked by a strong rebound as concerns about U.S. tensions with Syria and North Korea returned. This sent investors running into safe-haven assets like silver, which pushed the price of silver 2.2% higher to settle at $18.32.
On Wednesday, April 12, silver was trending lower until 3:30 p.m., when Trump said in an interview with The Wall Street Journal that the dollar was getting "too strong."
This caused the U.S. Dollar Index (DXY) to plunge from about 100.75 to 100.15, as you can see in the chart below...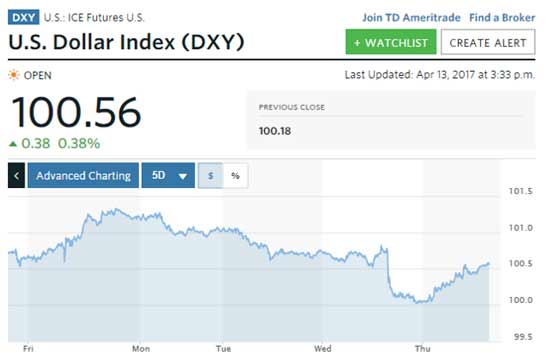 The falling dollar gave silver prices a generous boost. They managed to close at $18.45 for a 0.7% gain on the day.
The DXY regained strength on Thursday, yet silver still opened at the key technical level of $18.54. Though it fell back a bit in the afternoon, the price of silver still settled at $18.51 for a solid 0.3% rise. With markets closed for Good Friday, silver prices posted a strong weekly gain of 3.7%.
So why am I skeptical about silver's next move, despite the big rally recently?
Let me detail the technical and seasonal factors I pointed to above, then I'll reveal exactly where I see the silver price heading by the end of the year.
Price of Silver in 2017 Will Rise to This Target
Join the conversation. Click here to jump to comments…
About the Author
Peter Krauth is the Resource Specialist for Money Map Press and has contributed some of the most popular and highly regarded investing articles on Money Morning. Peter is headquartered in resource-rich Canada, but he travels around the world to dig up the very best profit opportunity, whether it's in gold, silver, oil, coal, or even potash.