Ever since Saudi Arabia announced its flagship oil company was going public, investors across the world have wondered when and where the Saudi Aramco IPO listing will be. That's because the company's valuation of over $2 trillion could make the Saudi Aramco IPO the biggest public offering of all time.
In fact, if the Saudi government only offers up 5% of Aramco to the public, its IPO will still be four times larger than Alibaba Group Holding Ltd.'s (NYSE: BABA) record-breaking $25 billion IPO.
And the Aramco IPO is making progress. On Feb. 7, the Saudi Arabian oil company hired Moelis & Co. (NYSE: MC) as its IPO advisor. Then on Feb. 21, the company hired the lead underwriters for the IPO. Wall Street stalwarts JPMorgan Chase & Co. (NYSE: JPM), Morgan Stanley (NYSE: MS), and HSBC Holdings Plc. (NYSE ADR: HSBC) won the lucrative underwriting contracts.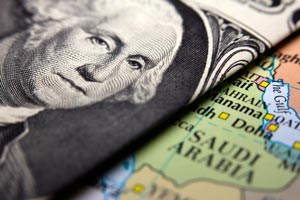 But Saudi Aramco has yet to choose which stock exchanges to list its shares on. And that means the Saudi Aramco IPO date is still up in the air. Saudi Prince Mohammed bin Salman said the government is preparing for a 2018 IPO date, but The Wall Street Journal reports a 2019 IPO date is more likely.
That's because the Aramco IPO is enormously complicated, and deciding which stock exchange to list the massive IPO on has global ramifications. Last weekend, United Kingdom Prime Minster Theresa May and London Stock Exchange CEO Xavier Rolet traveled to Riyadh to woo Aramco to list its shares on the London exchange.
That's why we'll break down the global impact of the Aramco IPO listing and why potential investors need to be careful...
Why the Saudi Aramco IPO Listing Is So Complicated
The sheer size of the Aramco IPO is enough to make a public offering complex, but the unique nature of the state-run oil company makes it even more complicated.
Sign up for SMS so you never miss special events, exclusive offers, and weekly bonus trades.
Don't Miss: The World's First "Universal Fuel"...
The Saudi Aramco IPO will break the record for the biggest IPO of all time, but with a market cap of $2 trillion, it would also be one of the biggest publicly traded companies in the world. In fact, it would be more than double the size of the largest company on American indexes, Apple Inc. (Nasdaq: AAPL).
But Saudi Aramco wouldn't just dwarf Apple, it would be bigger than its Big Oil rivals. Aramco's market cap would be larger than Royal Dutch Shell Plc. (NYSE ADR: RDS.A), Exxon Mobil Corp. (NYSE: XOM), BP Plc. (NYSE ADR: BP), and Chevron Corp. (NYSE: CVX), combined.
Saudi Aramco's massive valuation comes from the amount of oil reserves it controls. Because Saudi Aramco is the national oil company of Saudi Arabia, it controls all of Saudi Arabia's proven oil reserves. That means one company controls 20% of the world's oil.
And that's one of the big reasons the IPO is so difficult. Before thinking about going public, the Saudi government had no reason to separate itself from its state-run oil company.
But a public offering means Aramco will be subject to the public disclosure rules for whichever stock exchange it chooses, and that could risk exposing sensitive information about the Saudi government.
"Saudi Arabia has been reluctant to sell a percentage of its crown jewel company because doing so requires revealing important information about the country's oil fields that have been held in secrecy until now," says Money Morning Global Energy Strategist Dr. Kent Moors.
Although Aramco has indicated that a portion of the shares will be listed on Saudi Arabia's stock exchange, it also wants to list on a globally significant stock exchange. In the running are exchanges in New York, London, and Hong Kong, and each of them comes with their own set of financial disclosure rules.
Trending: Even the Best Big Oil Stocks Can't Beat These Small Companies
For example, if Aramco is listed on the New York Stock Exchange, the company would be required to disclose all information relevant to investors and publish audited financial statements.
That means if Aramco wants to be listed on an exchange like the NYSE, it will have to find a way to untangle itself from the Saudi government before going public.
And that process is already underway, too. Saudi Arabia announced a big change to the country's tax laws in late March. The new policy cut corporate taxes from 85% to 50%. The new tax policy makes Aramco more attractive to investors, but it shows how reliant the Saudi government was on the income from its oil company.
But another big hurdle could stand in the way of the Saudi Aramco IPO date, and it's one potential investors should pay careful attention to...
The Biggest Obstacle Ahead of the Saudi Aramco IPO Date