This market is still going sideways, but I'm seeing a few warning signs, signs that traders and investors are getting a bit more cautious – and I trust the prices I'm tracking for this more so than pundits and public opinion.
But the pundit class does have a role to play in this; they establish the "zeitgeist," the spirit of the times, or the mood of people participating in the markets.
A market's mood is much different than its narrative, or major driving force.
Today's mood is uncertain, bordering on negative. I'm seeing that reflected in two charts I'm using right now – charts that are also pointing at a nice profit opportunity.
These Are Great Gauges of "Market Mood" and More
Now, gold is a classic inflation hedge in a macro sense, over longer time frames.
But, as my Stealth Profits Trader readers would say, I'm a trader. I like to play for quick, easy money.
And in that sense, gold is an extremely useful, extremely profitable, uncertainty meter.
Check out this chart: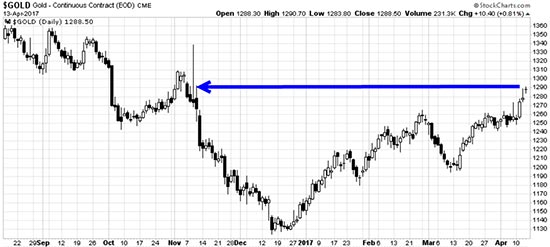 Here we see gold's prices at the highest level since the election last November. This is a strong indicator of a growing sense of uncertainty among market participants.
That's not all. There's another particularly reliable measure I like to use as well.
The Chicago Board Options Exchange (CBOE) Volatility Index, popularly called the VIX, or "Fear Index."
Here's how the VIX looks these days: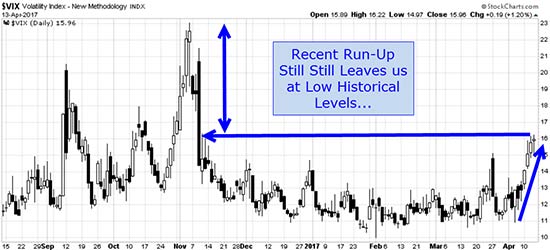 The VIX has popped over the past week or so… but to a level that is still very low.
So what is this telling me?
Well, it tells me that the mood out there is darkening, perhaps only temporarily, but the fundamentals, the narrative, are still solid. I don't think these price actions in gold and the VIX are signaling a market turn.
In fact, the muted run-up in the VIX in particular leads me to believe that we have a good chance for the U.S. indexes to – once again – bounce off the bottom of our sideways box: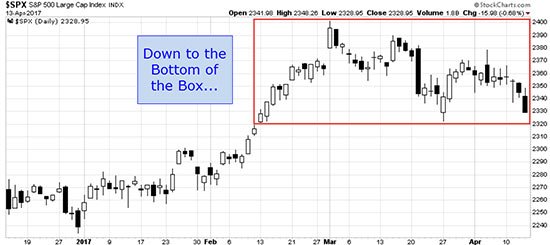 What's more, based on the muted response of the VIX, along with the fact that we haven't broken the support level at the "bottom" of the box, suggests that we may be in for a "bounce" up from the bottom.
So long as that bottom holds, and the narrative of the market changes, I like trading this with an index trade, or calls on the strongest of the three U.S. indexes. I'll be recommending a specific index trade to my Stealth Profits Trader readers as soon as I see proof that we're moving off the bottom.
Of course, I'll also be watching for the narrative to change and for us to break support and sink through the bottom of the box, although I think that's unlikely at this point. If that happens, I'll be looking at shorting those indexes for profits on the downside.
If you're a Stealth Profits Trader reader and didn't catch my instructions, log in here. To learn how to participate in these high-profit trades, go here.
D.R. is teaching thousands of people how to spot the market extremes that lead to life-changing gains. Click here to get his new 10-Minute Millionaire service, and twice each week, he'll show you how to maximize every opportunity the market offers.
Follow Money Morning on Twitter @moneymorning, Facebook, and LinkedIn.
Join the conversation. Click here to jump to comments…
About the Author
Nationally recognized technical trader. Background in  engineering, system designs, and risk reduction. 26 years in the markets.