(Kitco News) – European stock markets were mostly higher Tuesday on rebounds from selling pressure seen Monday. Asian stock markets were mostly weaker, following the sell-off in U.S. stocks Monday. U.S. stock indexes are pointed toward higher openings when the New York day session begins.
Gold prices are lower amid the better risk appetite in the marketplace so far Tuesday. Gold market bulls still have the overall near-term technical advantage amid a price uptrend on the daily bar chart.
In overnight news, the Euro zone consumer price index was up 0.8% in March from February and up 1.8%, year-on-year. Those numbers were in line with market expectations.
Still on the front burner of the world marketplace are geopolitical concerns regarding the U.S. and North Korea stand-off, and U.S.-Russia relations.
U.K. Prime Minister Theresa May surprised the marketplace on Monday by calling for snap general elections in June. The first round of the French presidential elections will be held Sunday. The second round will be on May 7. European market watchers are getting more nervous as the French elections approach and polls show tight races. This uncertainty is an underlying bullish element for the safe-haven gold market.
The key outside markets on Wednesday morning see the U.S. dollar index firmer on a mild corrective bounce from recent selling pressure. Meantime, Nymex crude oil prices are also modestly up following some recent downside action.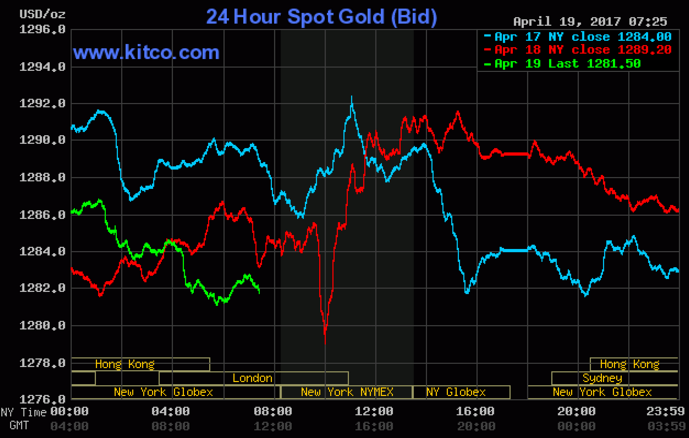 U.S. economic data due for release Wednesday includes the weekly MBA mortgage applications survey, the Federal Reserve's beige book and the weekly DOE liquid energy stocks report.
By Jim Wyckoff, contributing to Kitco News; jwyckoff@kitco.com
Follow Jim Wyckoff @jimwyckoff for breaking news.