Geopolitical tensions are ramping up in 2017 at a scary pace. Gold — a safe-haven asset — hit a five-month high on Monday, and Time notes that we've "enter[ed] a period of deep geopolitical recession."
On Saturday, the United States anxiously watched as North Korea celebrated the 105th birthday of founding leader Kim Il Sung. As is custom in North Korea, the country marked the holiday with shows of military strength, including nuclear or missile tests.
The Pentagon dispatched U.S. ships to waters off the Korean Peninsula to make its presence known.
"The United States and South Korea and North Korea are engaging in tit for tat, with swords drawn and bows bent, and there have been storm clouds gathering," China's foreign minister Wang Yi said, according to Xinhua, the state news agency.
The world is also on edge in Europe. In 2017, Europe faces challenges from the French election, Greece's finances, Brexit negotiations, and delicate relations with Russia and Turkey. And of course, Middle Eastern volatility and the refugee crisis will top headlines again this year.
As instability looms, a little-known facility housed in Norway has in its store protections against an all-out disaster…
Norway's Little Known Back-Up Plan
On a remote island just 800 miles from the North Pole, the Norwegian government has built a vault in the freezing cold that safeguards thousands of the most vital crops from annihilation. Officially called the Svalbard Global Seed Vault (SGSV), its unofficial name is the "Doomsday Vault" — it is "humanity's last hope against extinction after a world crisis," says Live Science.
In a September 2016 Live Science article, Cary Fowler, an American scientist, conservationist, and biodiversity advocate, and former executive director of the Crop Trust, stated that the more than 1,700 gene banks around the world are all too vulnerable to war, natural disaster, equipment failure, and other problems.
Must See: The South China Sea is about to get violent. But thanks to a small $6 U.S. defense firm with a top-secret new technology, China is about to be taken to the woodshed. Read more…
In 2008, Fowler's vision came to fruition when the Norwegian government went through with the SGSV build. Located on Spitsbergen Island of the Svalbard Archipelago — which is part of Norway — the vault was carved 390 feet inside a sandstone mountain that is 430 feet above sea level to guard against flooding.
Fowler advocated for Norway to host the vault because he "absolutely had to situate the vault in a country that was respected and trusted globally, particularly in relation to the issue of biodiversity," Fowler told Live Science in September 2016. Also, Norway was willing to provide 100% – $9 million – of the funding.
Additionally, the Svalbard Archipelago offers "almost perfect conditions: it is remote and thus safer than other possible locations and it's naturally cold," said Fowler.
The SGSV is built to store a massive 4.5 million varieties of crops, with each variety containing 500 seeds. That means about 2.5 billion seeds can be kept in the vault, according to the Global Crop Diversity Trust. As of September 2016, there are currently 860,000 seed samples housed within.
The concept is utterly important for the survival of mankind for two reasons.
First, if disease, climate change, or a man-made disaster annihilates one of the handful of plants and animals mankind has come to depend on to feed its growing population – we might desperately need one of those samples within the vault to reseed the earth.
And second, according to National Geographic, by the year 2045 the world's population could grow to 9 billion. And in order to keep up with demands, some experts say that the world will need to double its food production.
The "best hope for securing food's future may depend on our ability to preserve the locally cultivated foods of the past," says National Geographic, especially in light of ever-changing geopolitics that threaten certain regional crops.
The SGSV has already proven itself valuable in that department.
You see, the vault has been open for a total of nine years; for the first seven, it saw hundreds of thousands of seed samples go into its icy chambers.
Not a single one came out – until 2015…
Mankind Has Already Had to Open It Once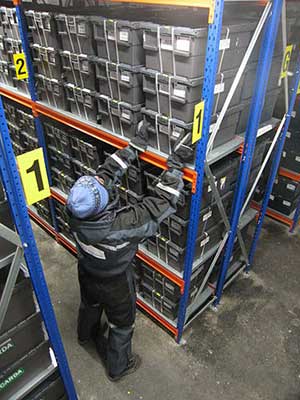 In September 2015, the International Center for Agricultural Research in Dry Areas (ICARDA) asked for the return of 325 boxes containing seeds it had stored in the SGSV.
For many years, the ICARDA housed its own seed bank near Aleppo, Syria, and focused on crops that grow in dry areas. The bank contained more than 135,000 varieties of wheat, fava beans, lentil, chickpea crops, and the world's most valuable barley collection.
But by 2012, the bank "had become increasingly difficult to operate" in Aleppo – due to civil war – so its staff fled the country, leaving the critical inventory behind.
And in 2015, with no signs of the Syria stabilizing, ICARDA staff withdrew seeds from the Doomsday Vault so they could plant and regenerate them at their new facilities in Lebanon and Morocco.
With its collection of drought and heat-resistant wheat backed up in the vault, the center ensured the Syrian civil war did not become an "extinction-level event" for local crops.
In the absence of major disaster, the vault is useful for preservation of historical species of crops. In 2016, Fowler said to Live Science, "Think of the seeds as a collection of traits, or even more broadly as a collection of options our crops will have in the future."
Secret Weapon Set to Foil China's Master Plan: The South China Sea is about to get violent, and the Chinese have an alarming new superweapon they think gives them the upper hand. Or at least that's what their war hawks think. But they couldn't be more wrong. Thanks to a small $6 U.S. defense contractor with a top-secret technology, the Pentagon has an ingenious new checkmate move designed to stop a Chinese sneak attack dead in its tracks. Click here to learn more…
For updates on how geopolitical tensions will affect your investments – and what to do to safeguard your assets — follow Money Morning on Twitter @moneymorning, Facebook, and LinkedIn.
Related Articles: