Update: Today (Friday, June 16), Amazon announced it's buying Whole Foods Market (Nasdaq: WFM) in a deal valued at $13.7 billion.
Rumors have been circulating that Amazon.com Inc. (Nasdaq: AMZN) might acquire BJ's Wholesale Club Inc. in the near future.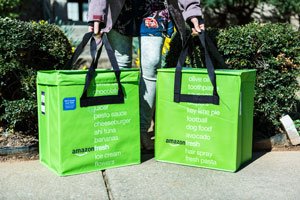 You see, on April 14, BJ's announced it would be putting itself up for sale, and Amazon has expressed modest internal interest in the chain, sources told The New York Post today (Thursday).
If the rumors are true, this wouldn't be Amazon's first rendezvous with brick-and-mortar grocery chains...
The e-commerce giant considered buying ailing organic-food retailer Whole Foods Market Inc. (Nasdaq: WFM) in the fall of last year.
And Amazon opened its first Amazon Fresh location in Seattle, Wash., in late 2016 - but the retailer assured the media it was "just for testing" and that "no plans had been made" to expand further.
Yet now the media frenzy has started all over again, and for good reason...
No Retailer Is Safe
You see, while other wholesale club operators might have been able to resist Amazon's onslaught, BJ's does not necessarily share in that advantage, according to retail industry observers.
That's because BJ's was bought out by a group of private-equity firms in 2011. The firms' cost-cutting and cash skimming has hurt BJ's competitively, Kantar Research analyst Tim Campbell told The Post.
"The chain has not done as well as it could online, hasn't grown much beyond its Northeast base, and has had trouble retaining newer members," he said. "I think the buyout has been beneficial to the owners but not for the actual BJ's business."
And while BJ's has been struggling, Amazon has been thriving.
According to Super Market News, over 50% of Amazon Prime members have used the Amazon Fresh delivery service, and Amazon's total grocery sales in the first quarter of this year totaled $350 million, up 30% year over year.
The two companies could make a pretty pair. Both retailers sell groceries, electronics, home goods, and auto parts. BJ's also has a hearty business in appliances and furniture -- niches where Amazon is looking to expand, according to The Post.
And as Amazon struggles to find enough warehouse space for its Amazon Fresh delivery service, adding BJ's could be a help.
BJ's currently operates 213 warehouse clubs and 130 gas stations across 15 states.
How to Play Amazon Now
There are two ways to play this, according to Money Morning Chief Investment Strategist Keith Fitz-Gerald - who has long been a staunch advocate of Amazon.
"Longer term, there's no question you want to own shares of Amazon," he told Members. "In fact, Amazon may well be the only company in the world today that you can buy today and expect to hold for the rest of your investing lifetime."
However, that comes with a hefty price tag. Amazon currently trades at over $900 a share.
"So consider buying just a few shares at a time," recommends Fitz-Gerald. "Heck, buy even one if that's what you can afford. Then, throw away the proverbial key."
Editor's Note: "Must-have" companies backed by Unstoppable Trends are a cornerstone of Keith's wealth-building strategy. But there's another type of investment he wants Money Morning Members to know about. It's one of his favorites, a kind of "desert island fund" he'd buy if he had to park his money in one place, "retire" from civilization for 20 years, and come back to a pile of money. Click here to learn more...
Follow Money Morning on Twitter @moneymorning, Facebook, and LinkedIn.