(Kitco News) – European and Asian stock markets were mostly slightly higher Thursday. Crude oil's solid losses on Wednesday did give equities traders pause, but oil prices have rebounded a bit Thursday morning. U.S. stock indexes are pointed toward higher openings when the New York day session begins.
Gold prices are weaker Thursday morning as the market is experiencing a normal downside technical correction after scoring a five-month high earlier this week.
The world marketplace is still very aware of geopolitical tensions between the U.S. and North Korea, and the U.S. and Russia. U.S. Secretary of State Rex Tillerson on Wednesday afternoon took a very hard line on Iran, too. Tillerson said the days of a passive U.S. stance against regimes like Iran and North Korea are over.
The first round of the French presidential elections will be held this Sunday. The second round will be on May 7. European market watchers are getting more nervous as the French elections approach and polls show tight races. The very existence of the European Union could hinge upon elections in the European Union this year.
In overnight news, the Euro zone reported its construction rose by 6.9% in February from January and was up 7.1%, year-on-year. Those were the largest numbers in five years.
The key outside markets on Thursday morning see the U.S. dollar index weaker. Meantime, Nymex crude oil prices are also modestly up following the strong selling pressure seen Wednesday, on ideas of rising U.S. crude oil production levels.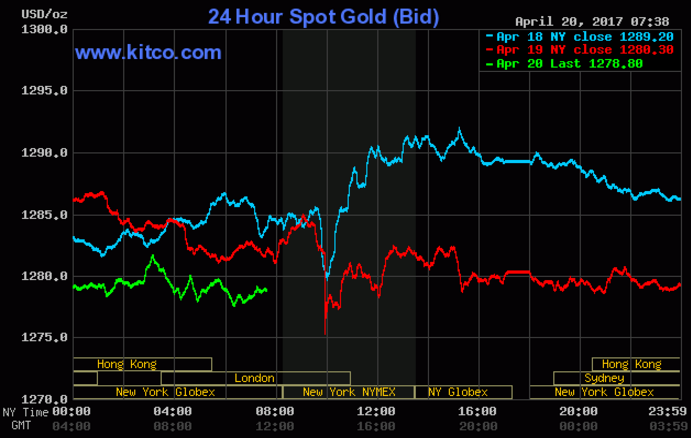 U.S. economic data due for release Thursday includes the weekly jobless claims report, the Philadelphia Fed business survey and leading economic indicators.
By Jim Wyckoff, contributing to Kitco News; jwyckoff@kitco.com
Follow Jim Wyckoff @jimwyckoff for breaking news.