Government shutdown 2017: A government shutdown could happen as soon as next week, and that's terrible news for the stock market, especially since it will pull the rug out from under the Trump rally.
Past government shutdowns caused the stock market dive 10%, and the next government shutdown could be even worse with stocks sitting near all-time highs. That has investors anxious about Congress' ability to get a funding bill passed.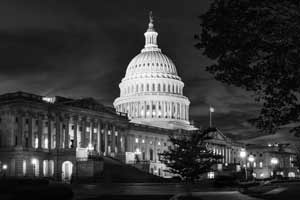 But prepared investors can turn a 2017 government shutdown into a moneymaking event with gains over 50%. And we'll show you exactly how to prepare for a government shutdown in 2017 as it becomes more likely...
Why Will the Government Shut Down?
Congress needs to pass a new resolution to fund the government before April 28. But there are serious doubts about their ability to agree on a proposal, especially since Congress is in recess until April 21.
Republicans control both chambers of Congress and the White House. But there are enough divisions within the party that could derail a funding bill without Democratic help. Just last month, a Republican effort to pass their own healthcare bill failed without ever reaching a vote in the House.
In that instance, Democrats refused to support the bill while Republicans couldn't agree on what should be in it. Once Paul Ryan realized he didn't have enough votes to pass it, he scrapped the measure.
The new funding bill could be doomed to the same fate as the failed healthcare bill.
Trending: Why One of Trump's Boldest Economic Promises Will Be Delayed Till 2018
The current spending bill funding the government was passed in December. An agreement was easier then because President Obama could still veto extreme bills and Republicans knew they would have complete control this April.
But members of Congress are downplaying the prospects of a government shutdown as they negotiate during the current recess. Paul Ryan says "we're not going to have a government shutdown" and Sen. Ted Cruz is merely "concerned" Democrats will force a shutdown.
That optimism is misplaced.
Now that Republicans control the government, they could be tempted to use the opportunity to take a stand on some controversial measures. And that could create enough divisions that a funding bill is derailed, just like the healthcare bill.
In fact, New York Magazine reports that during the last budget battle in 2016, Republicans voted for a spending bill that also repealed Obamacare and defunded Planned Parenthood. President Obama vetoed the bill.
Republicans could try again.
But a government shutdown could send the stock market plunging.
CNN
says President Trump has pushed to cut off funding for Obamacare subsidies to insurance companies, and Republicans were unable to cut off funding for Planned Parenthood after the healthcare bill collapsed. But a new spending bill could be the perfect vehicle for enacting their agenda.
Taking on these controversial measures would ensure Democratic opposition, and they could even divide the Republican Party between their Freedom Caucus and more moderate factions. If such divisions prevail, a spending bill won't pass.
And further complicating funding the government is the debt ceiling. The federal government already hit the debt ceiling on March 16. Without Congress raising the limit, the government could be in danger of defaulting on its obligations by the end of the summer.
Don't Miss: China Readies Itself for Global Trade War with U.S. and WTO
Congress could raise the debt ceiling along with a spending bill, but the debt ceiling has been controversial with Republicans. In fact, they've led fights to shut down the government over the debt ceiling during the last eight years. If a debt limit measure gets attached to the funding bill, it could create another big hurdle.
And the reason this is so important is because shutting down the government could have drastic consequences for the economy...
What Does a Government Shutdown 2017 Mean for My Money?
The short answer is the government won't be able to pay its bills until a spending bill is passed. That could mean missing Social Security payments or federal employee furloughs. And that would be damaging enough.
But a government shutdown could send the stock market plunging. That's exactly what happened during past government shutdown fights.
In 2011, the Dow fell 10% during a showdown over the debt ceiling between the middle of July and August. The government shutdown of 2013 sent the Dow falling 3% during the last week of September. A near government shutdown in 2015 saw Dow stocks falling 6% in just over two weeks in late August.
And a government shutdown in 2017 could cause an even bigger downturn.
You see, the Dow has surged 13% since Election Day, smashing through a series of all-time highs. It even ended March with 12 consecutive record-high closes. That's largely due to the belief a Trump administration would be good for the economy. President Trump has proposed an ambitious agenda of tax cuts, a trillion dollar infrastructures spending bill, and a spate of deregulation.
But a government shutdown would send a dramatic signal to traders that this agenda is in peril. Because stock prices jumped so high, a government shutdown could send stocks crashing down instead of a smaller correction.
But savvy investors don't need to worry...
That's because a government shutdown-induced market panic could be hugely profitable by following a simple strategy. Here's how to turn a government shutdown in 2017 into a potential 50% profit windfall...
How to Profit from a Government Shutdown 2017