Investing in startup companies is usually reserved for big financial firms, hedge funds, and well-connected individuals.
Unfortunately, retail investors are just left on the sidelines. It isn't fair, but that's reality.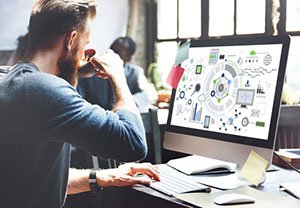 However, there is a profit opportunity hidden within startup companies: invest in a publicly traded company that owns part of the startup. This lets you indirectly invest in the startup while also providing you with shares of an established company.
And through extensive research, I came across once such opportunity…
There's an established tech firm with a $170 billion market cap that owns a stake in a new entertainment concept. And over the next 12 months, one analyst projects the stock price for this tech giant will provide market-beating gains of 24%.
But before we get to the profit opportunity, we want to make sure you know more about this innovative startup before everyone else finds out about it…
How Startup Two Bit Circus Inc. Is Disrupting the Entertainment Industry
Two Bit Circus Inc. co-founder Brent Bushnell has the right pedigree to start an entertainment company.
Video
Two Bit Circus: The Future of Fun
His farther, Nolan Bushnell, founded gaming company Atari and entertainment center Chuck E. Cheese. According to Bloomberg, Brent's father would quiz him at places like ice cream parlors when he was young on how much he thought cashiers were paid and how much the refrigerators cost.
As he's grown up in the entertainment world, Bushnell and Two Bit's other co-founder, Eric Gradman, believe the next big trend in recreation is "micro amusement parks."
They believe they can lure people away from watching TV and spending time on their phones through a technologically advanced entertainment experience.
The duo signed a lease in LA for a 50,000-square foot space, and the space will include:
Robot bartenders
Story room adventures where participants are locked in a room and have to solve puzzles to leave
A virtual reality arena for video games
Since its inception in 2012, Two Bit has raised $21.5 million.
Must Read: Top 10 2017 IPOs to Watch
And because of the combination of technology and entertainment, it caught the attention of one major tech giant. The venture arm of this $170 billion company went so far as to say Two Bit Circus would "disrupt the entertainment industry" and was one of Two Bit's biggest investors in its latest funding round, according to FactSet.
And because this opportunity could net Money Morning Members gains of 24% in the next year, we had to make sure you knew about it today…
Investing in a Startup Company with This "Backdoor Play"